Casio Celviano AP710 Digital Piano with Bench
Further evolved, groundbreaking AiR Grand Sound Source
More natural sustain for more beautiful chord resonance. More sensitive expressiveness for pianissimo sounds, especially when playing extremely softly.
Three Legendary Pianos
The storied tradition of the piano, an instrument with a long history going back to the 1700s, lives on today in three superb pianos. CASIO exhaustively researched and analyzed the tonal characteristics of these three full concert grand pianos, made in Berlin, Hamburg, and Vienna. We drew upon the full range of our digital technologies to express the tone color of these grand pianos in the AiR Grand Sound Source. It is now possible to enjoy to the fullest the magnificent sound of these historic pianos, beloved by Liszt, Debussy, and other musical giants, in a single digital piano.
Berlin Grand sound was developed in collaboration with C. Bechstein.
When speaking of the C. Bechstein piano, Claude Debussy declared, "Piano music should only be written for the Bechstein." This history of C. Bechstein pianos begins with the company's founding by Carl Bechstein in Berlin in 1853. Now, Casio has joined in collaboration with this renowned piano maker to develop the "Berlin Grand" tone, a balanced, elegant sound with a clearly defined shape. To create its exquisite clarity of tone and vibrancy, we analyzed the tone color of the ultimate C. Bechstein masterpiece, the D282. The resulting sound, which meets with the approval of even C. Bechstein master piano maker Werner Albrecht, has been incorporated into the CELVIANO AP-710 as "Berlin Grand."
---
Keyboard System
Natural Playing Feel Approaching That of a Grand Piano Firm Touch That Converts the Player's Thoughts into Sound
             Number of Keys 88                          Hammer Action Keyboard
Touch Response : 3 sensitivity levels               Maximum Polyphony 256
Tri-sensor Scaled Hammer Action Keyboard II, with a grand piano's unique sounding timing
The difference between the sound structures of a grand piano and a digital piano appears as a difference in timing, from the moment the instrument is played until the sound is audible. The Tri-sensor Scaled Hammer Action Keyboard II responds by incorporating a system with three sensors that detect touches of the keys sequentially.
Simulated ebony and ivory keys with optimal fingertip fit for playing ease
The simulated ebony and ivory keys offer the luxurious feel and texture as well as the smooth touch of a grand piano keyboard. The minutely detailed crimp surface finish inhibits finger slippage due to sweat and gives the sensation of a perfect fingertip fit, even when playing for extended periods.
---
Lid Simulator
*

 

reproducing the sound effects resulting from an open lid
The sound volume and quality change when the lid on a grand piano is raised or lowered. The Lid Simulator reproduces the same acoustic effects for enhanced enjoyment with a digital piano. The acoustic effects of opening and closing the lid are simulated in fine detail. The piano sound you are seeking as you play is always available for your enjoyment by selecting the degree to which the lid is raised or lowered.
The Lid Simulator setting value remains unchanged, regardless of whether the lid on the piano body is open or closed.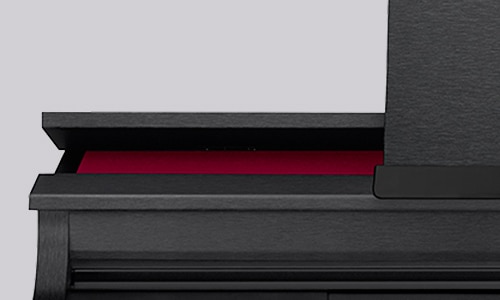 ---
An unprecedented evolution of the digital piano
String Resonance resonator achieving deep, rich resonance with 88 keys
The sound produced by an acoustic piano is not only the sound associated with the keys that are struck. Other strings with frequencies closely associated with those producing the sounds resonate as well, adding their sound to give the music a uniquely rich resonance. In ordinary digital pianos, this string resonance effect is reproduced virtually with strings. The Multi-dimensional Morphing AiR sound source takes a different approach, however, by adopting a "string resonance" system incorporating a stereo resonance simulator for all 88 keys. The resonance of the 88 keys is reproduced completely and naturally. The resonance realized by playing a single tone is differentiated from that realized by playing a chord to reproduce the resulting variations in resonance in a natural manner. This even enables players to achieve varying resonances, controlling them at will by the strength of their touch, and thus to realize performances with the unique expressiveness of an acoustic piano.
Key Off Simulator reproducing tonal variations resulting from finger release
The lengths of the reverberations and expressions a piano produces vary depending on the speed at which players release their fingers after touching the keys. The new keyboard system incorporates a Key Off Simulator that reproduces these nuances resulting from key release naturally. Authentic reverberations that feel just like those of a grand piano are expressed as a result.
Damper Resonance
*

 

achieving a more naturally beautiful resonance than a pedal

The deep, beautiful resonance resulting from the use of a damper pedal is also reproduced naturally by a stereo resonance simulator installed on all 88 keys, an approach that differs from conventional simulated reproduction employing effect processing. The attention to detail goes so far as to simulate the resonance created by the lifting of the dampers themselves when the pedal is pressed.
A continuously variable system has been adopted for the damper pedal, moreover, reproducing even the subtle changes in reverberation that occur in response to the delicate pressure exerted by partial pedal operation. This enables players to employ pedal operation to achieve gracefully expressive performances.
A grand piano also generates several types of mechanical sounds, which are an important part of the playing experience. Casio has sought to provide a more realistic simulation by reproducing the sounds of these mechanisms. Three types of operating sounds are included, and the volume of each can be set independently or turned off.
Damper Noise, Key On Action Noise and Key Off Action Noise
The Hall Simulator function simulates the differing acoustic characteristics of world-famous concert halls, from pure reverberation with outstanding tonal transparency to free-spirited, dazzling reverberation. An advanced equalizing system assures the pianist's full enjoyment of vital piano sound.
High-quality audio data recordings of 10 live orchestra performances are installed. Pianists can play along with the recordings and enjoy the feeling of participating in a magnificent performance. Musical scores of the concerts are bundled.
Versatile features
Audio Recording (44.1 kHz WAV Format / up to approximately 25 min. per song)
18 high-quality tones including stereo-sampled grand piano tones
Digital effects: hall simulator (6 types x 4 positions), chorus (4 types), brilliance, DSP (preset for some tones)
Lesson feature using

 

60 Music Library songs

 

plus 10 user loaded songs
Duet Mode enabling two people to play in the same range
Recorder: 2 tracks x 1 song, approximately 5,000 notes
8 tone select buttons for instant access
USB flash drive port
Adjustable-height piano bench included
LINE IN/OUT jacks (L/MONO, R for each)
AUTO POWER OFF
Keyboard

88-key piano keyboard
Layer, Split
Duet: Adjustable tone range (-2 to +2 octaves)
Transpose: -12 semitones to 0 to +12 semitones
Octave shift: 4 octaves (-2 to 0 to +2)

Sound Source

Number of Tones: 26
Maximum polyphony: 256 notes
Touch Response: 3 sensitivity levels, Off
Tuning: 415.5Hz to 440.0Hz to 465.9Hz (0.1Hz units)
Temperament: Equal temperament plus 16 other types
Stretch Tuning: 5 types, Off, Auto Setting

Acoustic Simulator

String resonance, Damper resonance, Damper noise, Key on action noise, Key off action noise, Hammer response, Lid simulator

Effects

Hall simulator (12 types), Chorus (4 types), Brilliance (-3 to 0 to 3), DSP, Headphone mode

Concert Play

Number of Songs: 15
Playback of Concert Play songs obtained with a computer, etc.
Song volume: Adjustable
Playback at 80% of normal tempo
2 Modes: LISTEN, PLAY


Music Library

Number of Songs: 60, User Songs: 10 (Up to approximately 90KB per song, approximately 900KB for 10 songs)

*

Based on 1KB = 1024 bytes, 1MB = 10242

 

bytes

Song volume: Adjustable

Part On/Off: L, R

Grand Piano demo song

6

MIDI Recorder

Functions: Real-time recording, playback
Number of Songs: 1
Number of Tracks: 2
Capacity: Approximately 5,000 notes total
Recorded Data Protection: Built-in flash memory
MIDI Recorder Volume Level: Adjustable

Audio Recorder

Real-time recording and playback to USB flash drive

*

Linear PCM, 16bit, 44.1kHz, stereo .WAV format

Songs: 99 files

Approximately 25 minutes maximum recording per file.

Audio Recorder Volume Level: Adjustable

Metronome

Beats: 0 to 9
Tempo Range: 20 to 255
Metronome Volume Level: Adjustable

Pedals

Damper (with half-pedal operation), Soft, Sostenuto

Other Functions

Setting backup
Operation Lock

MIDI

16-chanel multi-timbre receive

USB Flash Drive

Capacity: 32GB or less recommended
SMF direct playback, data storage, data loading, USB flash drive format, audio data playback and storage, scene storage

Inputs/Outputs

PHONES jacks: Stereo standard jacks x 2
Power: 24V DC
MIDI OUT/IN terminals
LINE IN R, L/MONO jacks: Standard jacks x 2/ Input impedance: 9.0kΩ, Input voltage: 200mV
LINE OUT R, L/MONO jacks: Standard jacks x 2/ Output impedance: 2.3kΩ, Output voltage: 1.8V (RMS) MAX
USB port: Type B
USB flash drive port: Type A
Pedal connector

Acoustics

12cm x 4 + 5cm x 2 (Output 30W + 30W)
Volume sync equalizer (3 types, Off)

Power Requirements

AC Adaptor: AD-E24500LW
Auto Power Off: Approximately 4 hours after last operation. Auto Power Off can be disabled.

Power Consumption

28W

Dimensions

137.7 (W) x 42.7 (D) x 91.1 (H) cm

Weight

48 kg

Included Accessories

Music Stand, Score Book, Bench, AC Adapter (AD-E24500LW)

EAN code

4971850362562
Orders typically take 1-3 business days to process and ship. When items are out of stock, they will be dispatched no more than 10 days after ordering. For urgent orders please contact us first to confirm stock availability.