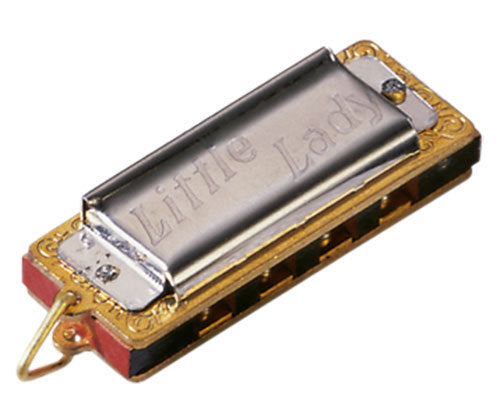 Hohner Miniatures Series Little Lady Standard Harmonica in the Key of C
The Smallest Harmonica in the World!
The Little Lady attained worldwide fame in 1965 when Walter Schirra, commander of the Gemini 6 manned space flight mission, used one to play "Jingle Bells" for the astonished team at Ground Control.
With an overall length of only 3.5 cm (1.38 inches) it is the smallest playable series manufactured harmonica in the world and shares the same high technical standards as its larger siblings.
Whether as a pendant, a key ring or in a tiny fitted jewel case, it makes the ideal gift article for every occasion.
All Little Ladies are hand-made in Germany.
Features:
Pearwood comb
0.9mm brass reed plates
8 brass reeds
Stainless steel covers
One complete diatonic octave in C-major
in case
Orders typically take 1-3 business days to process and ship. Please note that not all items are held in stock at Crescendo Music's retail store. When items are out of stock, they will be dispatched no more than 10 days after ordering. For urgent orders please contact us first to confirm stock availability.