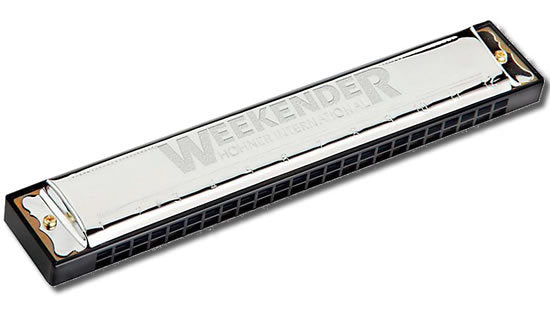 Hohner Weekender-24 Tremolo Harmonica in the Key of C
The First Start For Folk Songs!
The Hohner Weekender 24 Hole Harmonica features a smooth sound and a solid plastic body.
Mainly used for folk music, tremolo-tuned harmonicas are easily recognizable by the horizontal division of the air channels. Each channel has two reeds for each note, one pair for blown notes and another pair for drawn ones.
This 24-hole harmonica by Hohner offers a cheerful and merry tone and is the ideal harmonica for those just starting out.
Features:
Black plastic comb
0.9 mm brass reed plates
48 brass reeds
Stainless steel covers
Available in C-major
Orders typically take 1-3 business days to process and ship. Please note that not all items are held in stock at Crescendo Music's retail store. When items are out of stock, they will be dispatched no more than 10 days after ordering. For urgent orders please contact us first to confirm stock availability.