Flight Tenor Ukulele Fireball Electronic Pickup
 The Flight Fireball is named after a well-known jet airplane.  The Flight Fireball EQ-A Tenor features a solid mango body with dyed maple appointments, including a rosette, comfort edge, and scalloped cutaway.
The mango tree, most popular for its tasty fruit, also serves as a stunning tone wood, both in appearance and sound.  Mango has a sweet sound (pun intended) that is often compared to koa, while offering amazing grain patterns found with no other tone wood.  Check out the amazing Flight Fireball and see how sweet it is to fall in love with it!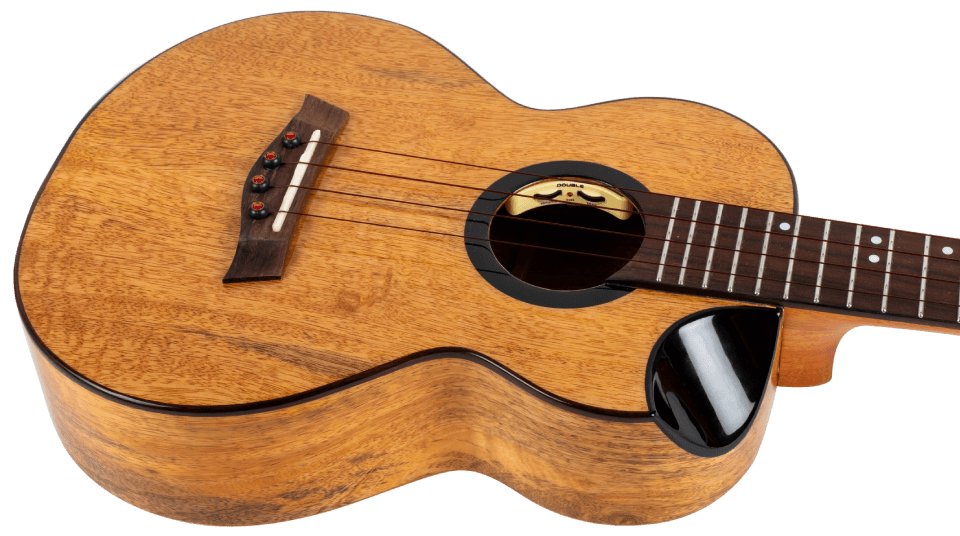 How sweet it is
The Flight Fireball features a solid mango body. Mango has a distinctive grain and appearance, and some players feel that it sounds similar to koa.  Mango has a warm, resonant, rich sound with great sustain.  You won't believe how "sweet" this sounds!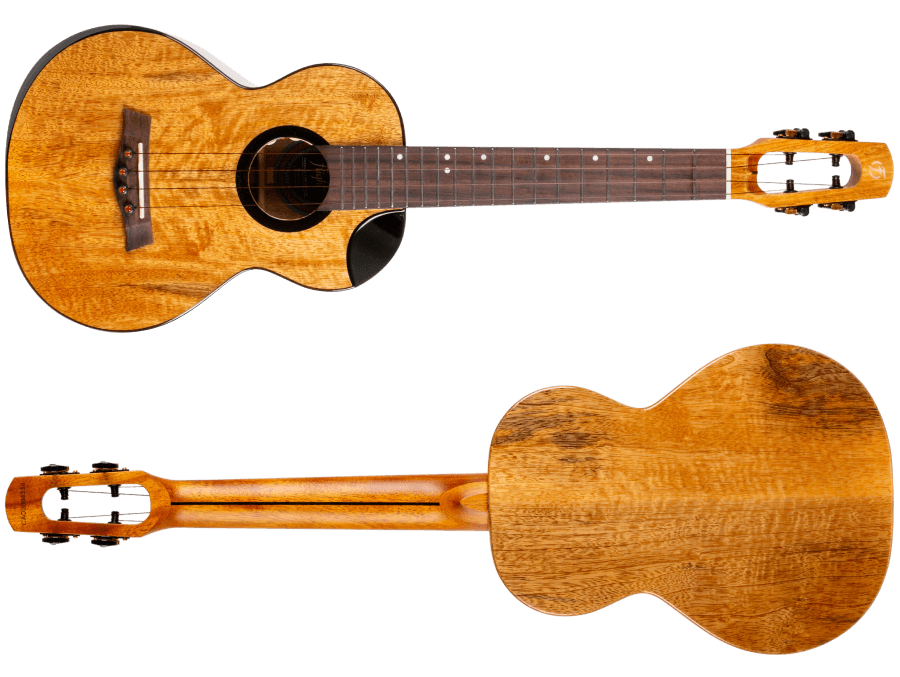 Let's play
African mahogany neck & rosewood fingerboard
The African mahogany neck is strong and smooth, helping to add to the warm tone of the Flight Fireball.  The fretboard is made of rosewood, a beautiful, strong, and hard wood that can add warmth to the sound of an instrument while lessening harsh higher frequencies of an instrument.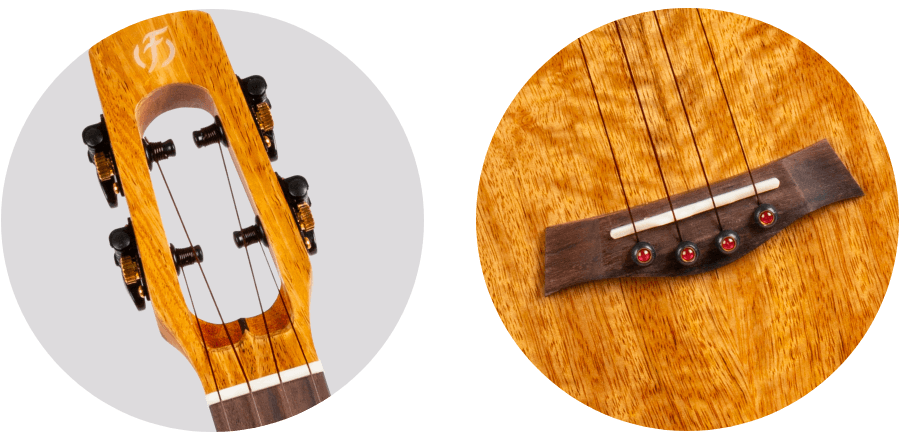 Pitch perfect
Bone compensated saddle and pin bridge
The Fireball features a rosewood bridge, as well as a real bone nut and a compensated saddle. Compensated saddles help to properly set the intonation of each string.  The Fireball includes a pin bridge system, which helps keep the strings properly aligned on the ukulele, as well as to create a break angle over the saddle that transfers vibrations efficiently to the mango soundboard of the ukulele.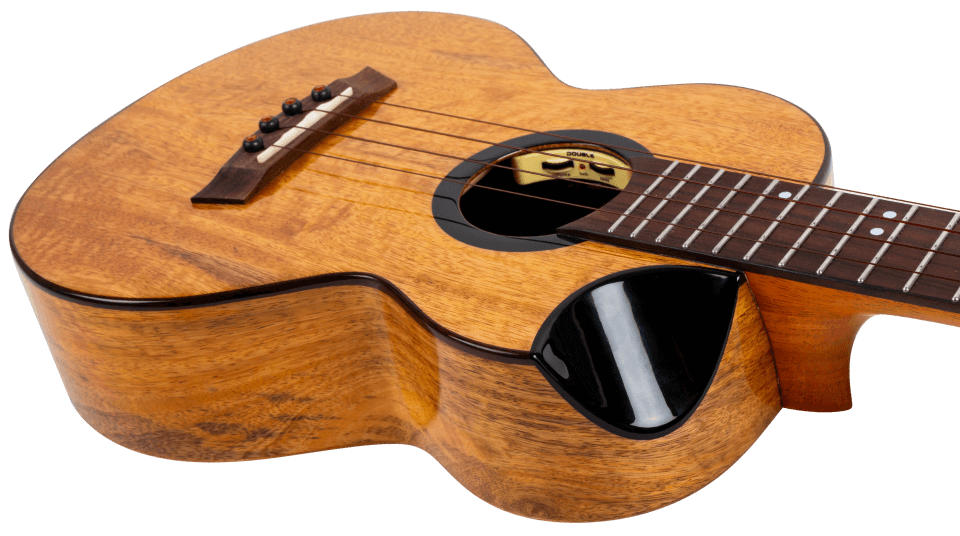 All dressed up
Stylish  dyed maple rosette, binding, comfort edge, and scalloped cutaway
The Flight Fireball features a dyed maple rosette, binding, comfort edge, and scalloped cutaway.  The comfort edge makes the ukulele incredibly comfortable to play, and the scalloped cutaway offers access to the highest frets without compromising the volume and tone of the ukulele.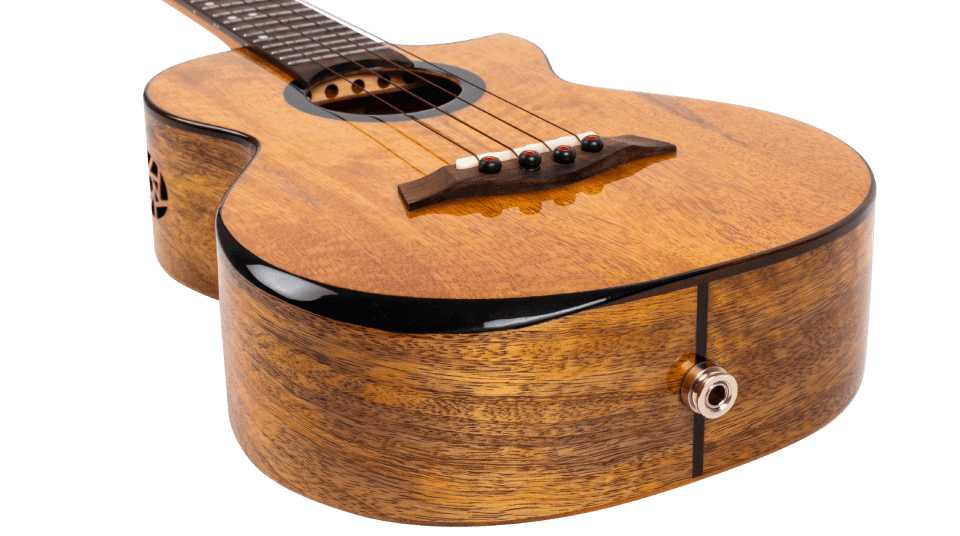 Invincible yet mighty
In 2020 we moved to using Double C1U active pickups in our electro-acoustic ukuleles.  The controls for the pickup are mounted underneath the sound hole, meaning that a cavity does not have to be created on the side of the ukulele for the pickup.  Most importantly, they sound great!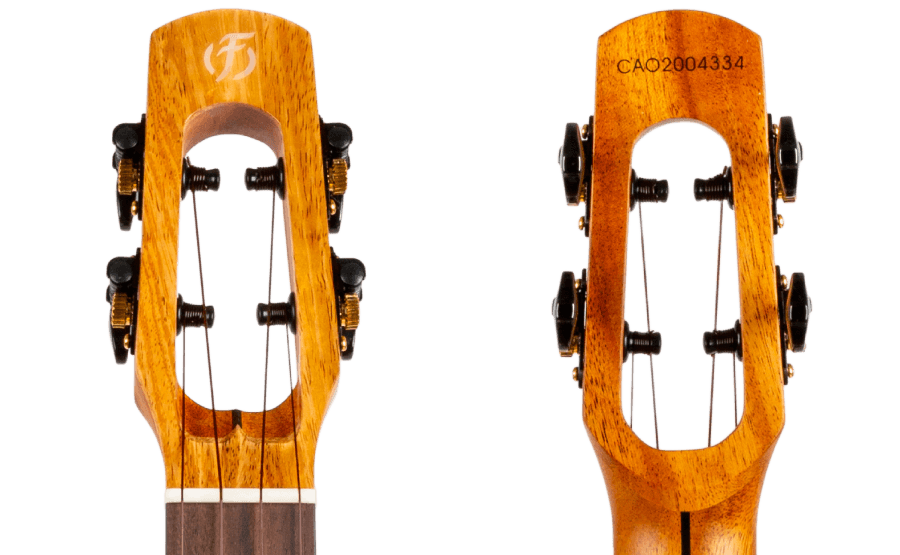 Turning heads
Bold and striking headstock design
The Flight Fireball shares the unique "modified" slotted headstock as some of the other ukuleles in our Royal Series.  The headstock looks amazing and will attract action on its own, while the design is strong and effective, making sure that the break angle at the nut results in the best possible tone of your ukulele.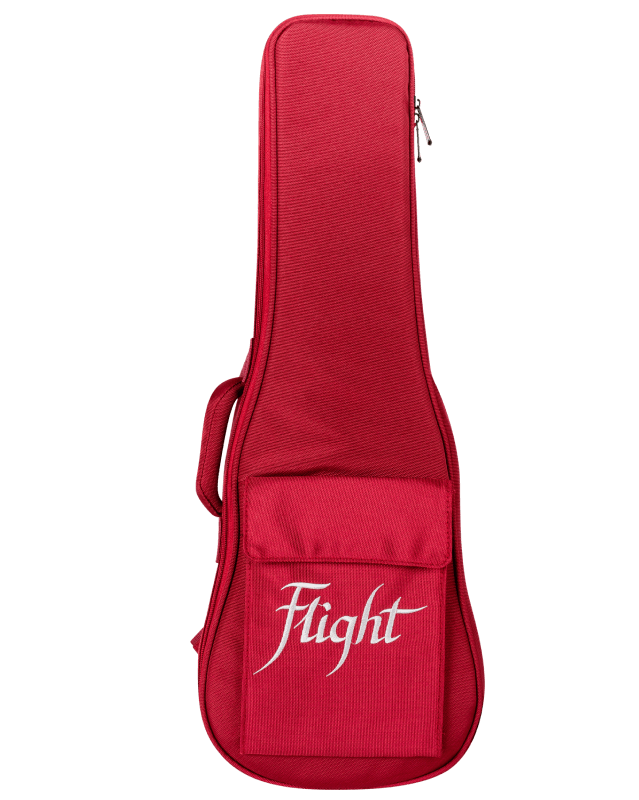 Only the best gig bag
While our signature beige gig bag has become recognized in the ukulele world, we raised the bar with our Deluxe Gig Bag.  The Deluxe Gig Bag has a royalty-inspired color (burgundy infused with purple) and incredible velvety interior.  It isn't often that the gig bag included with an instrument gets as much attention as the instrument itself–but that is what happened!  We think it is the best gig bag that comes with any ukulele, period.
Specifications
Body Shape: Tenor (19 frets)
Top: Solid Mango
Back & Side: Solid Mango
Bridge:

 

Rosewood
Bridge Style:

 

Pin Bridge
Strings:

 

Worth Brown
Neck:

 

African Mahogany
Fretboard: Rosewood
Nut & Saddle:

 

Bone
Nut Width:

 

38mm
Pickup: Double C1U Active Pickup
Offset Position Markers: 3th, 5th, 7th, 10th, 12th and 15th frets.
Premium Features:

 

Rosewood fretboard, dyed maple binding, dyed maple rosette, dyed maple comfort edge, unique headstock, pin bridge system, scalloped dyed maple cutaway, compensated saddle, Worth Brown Strings
Orders typically take 1-3 business days to process and ship. When items are out of stock, they will be dispatched no more than 10 days after ordering. For urgent orders please contact us first to confirm stock availability.