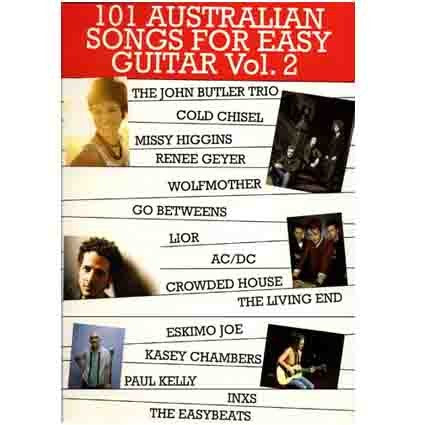 101 Australian Songs Easy Guitar Vol 2
Australian songs for easy guitar with lyrics and guitar chord boxes. 
Contents
( Baby I've got you) On my mind [Powderfinger]
A Little Further North [Connors, Graeme]
Amazing [Lloyd, Alex]
Better Days [Murray, Pete]
Black Betty [Spiderbait]
Bless My Soul [Powderfinger]
Buses And Trains [Bachelor Girl]
Careless [Kelly, Paul]
Chains [Arena, Tina]
Cool World [Mondo Rock]
Darling It Hurts [Kelly, Paul]
Even When I'm Sleeping [Leonardo's Bride]
Evie Part 1, 2, 3 [Easybeats, The]
Flame Trees [Cold Chisel]
Forever Now [Cold Chisel]
Four Seasons In One Day [Crowded House]
Georgie Girl [Seekers, The]
Green Limousine [Badloves, The]
Help Is On It's Way [Little River Band]
Highway To Hell [Ac/Dc]
Hold Onto Me [Black Sorrows, The]
I Got You [Split Enz]
I Made 100 In The Backyard At Mum's [Champion, Greg]
I Touch Myself [Divinyls]
Leaps And Bounds [Kelly, Paul]
Leaving The Land [Bogle, Eric]
Live It Up [Mental As Anything]
London Still [Waifs, The]
Lost And Found [Chambers, Casey]
Morningtown Ride [Seekers, The]
My Youngest Son Came Home Today [Bogle, Eric]
No Aphrodisiac [Whitlams, The]
One Crowded Hour [March, Augie]
Opportunity [Murray, Pete]
Overkill [Men At Work]
Prisoner Of Society [The Living End]
Rain [Dragon]
Run To Paradise [Choirboys]
Say I Love You [Geyer, Renee]
Shape I'm In [Falcons, The]
Shivers [Boys Next Door]
Something's Gotta Give [John Butler Trio, The]
State Of The Heart [Mondo Rock]
Tell These Hands [Storer, Sara]
The Horses [Braithwaite, Darryl]
The Special Two [Higgins, Missy]
US Forces [Midnight Oil]
Watch Over Me [Fanning, Bernard]
When The War Is Over [Cold Chisel]
Who Listens To The Radio [Sports, The]
Wish You Well [Fanning, Bernard]
Yerterday's Hero [Young, John Paul]
Zebra [ John Butler Trio]
Orders typically take 1-3 business days to process and ship. When items are out of stock, they will be dispatched no more than 10 days after ordering. For urgent orders please contact us first to confirm stock availability.