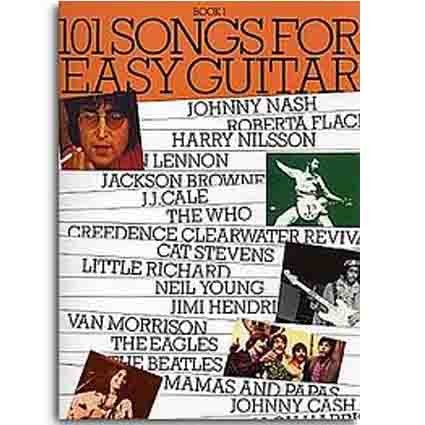 101 Songs for Easy Guitar Book 1
101 songs for easy guitar, presented with melody line, lyrics and chords. Includes the songs A Horse with No Name, Mr Bojangles, Crocodile Rock, Brown Sugar and  Bad Moon Rising.
Contents
A Hard Days Night
A Horse With No Name
After Midnight
After The Goldrush
All Shook Up
And I Love Her
Angel
Another Saturday Night
Baby I Love Your Way
Bad Bad Leroy Brown
Bad Moon Rising
Bitch
Blue Suede Shoes
Both Sides Now
Boulder To Birmingham
Brown Sugar
Bulbs
Burning Of The Midnight Lamp
California Dreaming
California Girls
Change Partners
Country Comfort
Crocodile Rock
Day Tripper
Desperado
Diamonds And Rust
Don't Be Cruel
Down By The River
Down On The Corner
Eleanor Rigby
Everybody's Got Something To Hide Except Me And My Monkey
Everybody's Talking At Me
Get Back
Gimme Shelter
Got A Lot Of Livin' To Do
Heart Of Gold
Heartbeat
Help Me Ronda
Here There And Everywhere
Hey Joe
Hey Jude
His Latest Flame
Honky Tonk Woman
Hurdy Gurdy Man
I Can See Clearly Now
I Can't Get No Satisfaction
I Get Around
I Say A Little Prayer For You
I Walk The Line
If Six Was Nine
Instant Karma
It Never Rains In Southern California
Jailhouse Rock
Jumpin' Jack Flash
Killing Me Softly With His Song
Lady D'arbanville
Let It Be
Little Deuce Coup
Little Wing
Love The One You're With
Lowdown
Lyin'eyes
Mellow Yellow
Michelle
Monday Monday
Morning Has Broken
Mr Bojangles
One Of These Nights
Paperback Writer
Peggy Sue
Pinball Wizard
Please Mr Postman
Proud Mary
Purple Haze
Rainy Day People
Red House
Return To Sender
Revolution
Rock Me On The Water
Roots Rock Reggae
Season Of The Witch
Southern Man
Strawberry Fields Forever
Sundown Sunshine Superman
Surfin' Safari
Suzanne
Take It Easy
Tequila Sunrise
That'll Be The Day
The First Time Ever I Saw Your Face
Tumbling Dice
Tupelo Honey
Tutti Frutti
Walk On By
Warm Love
Without Her
Woodstock
Words Of Love
You Don't Mess Around With Jim
You're So Vain
Orders typically take 1-3 business days to process and ship. When items are out of stock, they will be dispatched no more than 10 days after ordering. For urgent orders please contact us first to confirm stock availability.