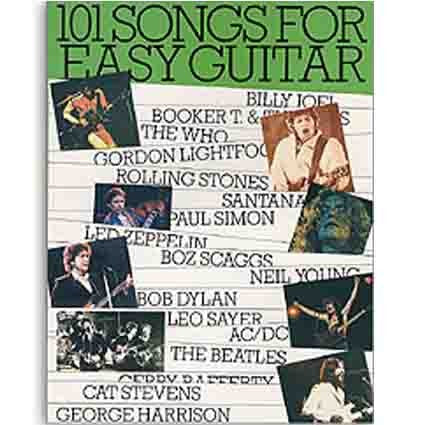 101 Songs for Easy Guitar Book 4
A big collection of 101 popular classics for Guitar, The Who, Led Zeppelin, The Beatles,  and many more. These songs are presented with melody line, lyrics and chords.
Contents
59th Street Bridge Song (Feelin' Groovy)
After The Thrill Is Gone
Against The Wind
America
Angels On The Balcony
Back In Black
Baker Street
Black Magic Woman
Blondes Have More Fun
Can't Smile Without You
Casey Jones [Newton, Eddie]
Cats In The Cradle
Cecelia
China Grove
Chuck E's In Love
Dark Star
Daytime Friends
Did She Mention My Name
Do The Dark
Eagle
Escape (The Pina Colada Song)
Feels Like A Number
Fifty Ways To Leave Your Lover
For What It's Worth
For You Blue
Forty Nine Bye Byes
Good Time Bad Time
Green Onions
Have A Drink On Me
Heart Of Stone
Here Comes The Sun
Hey Hey, My My
Hollywood Nights
Honey Honey
I Saw Her Standing There
I'm Free
Iron Maiden
It Takes A Lot To Laugh, Train To Cry
It's All Over Now
Killing Of Georgie (Part 1+2)
Knowing Me Knowing You
Lady Jane
Let's Twist Again
Lido Shuffle
Like A Rolling Stone
Lonely Heart
Loner
Longer Boats
Masters Of War
Me And Julio Down By The Schoolyard
Monday Morning
Mother And Child Reunion
Movin Out
Mrs Robinson
My Generation
My Little Town
My Sweet Lord
Needle And The Damage Done
New York State Of Mind
No Expectations
Ohio
Peace Train
Piggies
Playing In The Band
Positively 4th Street
Profession Of Violence
Ramblin Man
Rapture
Ring My Bell
Rock 'N' Roll Ain't Noise Pollution
Rocket Man
Sanctuary
Second Hand News
She Believes In Me
Sittin' On A Fence
Slip Slidin' Away
Something
Stairway To Heaven
Still Crazy After All These Years
Suite: Judy Blue Eyes
Swingtown
Take A Chance On Me
Takin It To The Streets
T-birds
That's The Way (I Like It)
The Entertainer
The Letter
There But For Fortune
Time Passages
Tobacco Road
Truckin'
Tryin' To Get The Feeling Again
W.O.L.D
Wasted Time
What A Fool Believes
When The Ship Comes In
While My Guitar Gently Weeps
Wreck Of The Edmund Fitzgerald
You Make Me Feel Like Dancing
You Shook Me All Night Long
You're In My Heart
Orders typically take 1-3 business days to process and ship. When items are out of stock, they will be dispatched no more than 10 days after ordering. For urgent orders please contact us first to confirm stock availability.