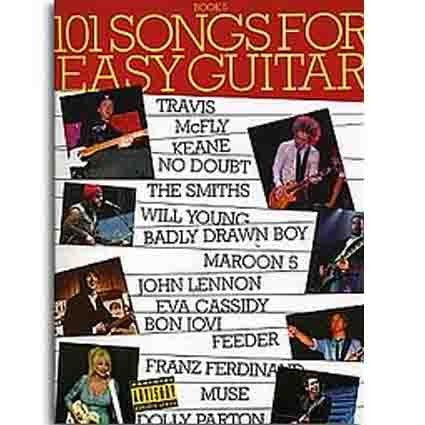 101 Songs for Easy Guitar Book 5
A comprehensive collection of well known rock and pop songs arranged for easy guitar. Each song is written with a melody line, lyrics and chord symbols.
Contents
20th Century Boy
A Case of You
All About You
All Along the Watchtower
All I Have to Do Is Dream
All Right Now
Always on My Mind
American Pie
Angel
Angels
Are You Gonna Be My Girl
Babylon
Beautiful
Bohemian Like You
Bridge Over Troubled Water
Brothers in Arms
Brown Eyed Girl
Creep
Dakota
Dead in the Water
Early Morning Rain
Everything I Own
Fairytale of New York
Father and Son
Fernando
Forget Her
Give Peach a Chance
Go Let It Out
God Only KNowns
Golden Brown
Golden Touch
Good Vibrations
Gravity
Harder to Breathe
Have a Nice Day
Hopelessly Devoted to You
How Soon is Now?
Hurt
I Just Don't Know What to Do with Myslef
I Say A Little Prayer
Imagine
It's A Sin
It's My Life
Johnny B. Goode
Jolene
Just Because
Keep What Ya Got
Knockin' On Heaven's Door
Layla
Light My Fire
Little Lies
Livin' On A Prayer
Love
Love and Affection
Mad World
Maggie May
Massachusetts
Molly's Chambers
More Than Words
Mr Brightside
Muscle Museum
No One Knows
Nothing Compres 2 U
Nothing Else Matters
One
Orpheus
Purple Rain
Rollover D.J.
Run
Should I Stay or Should I Go
(Sittin' On) The Dock of the Bay
Solitary man
Somebody Told me
Something to Talk About
Somewhere Only We Know
Son of a Precher Man
Songbird
Staying Out for the Summer
Stuck in the Middle with You
Stumble and Fall
Suspicious Minds
Sweet Home Alabama
Take Me Out
Teenage Kicjs
The Air That I Breathe
The Closest Thing To Crazy
The End of the World
The Scientist
The Weight
These Boots Are Made for Walking
This Love
Tumble and Fall
Waterloo Sunset
Whiskey in the Jar
Why Does It Always Rain On Me?
Wild World
With A Little Help From My Friends
Woman
Wonderwall
Orders typically take 1-3 business days to process and ship. When items are out of stock, they will be dispatched no more than 10 days after ordering. For urgent orders please contact us first to confirm stock availability.