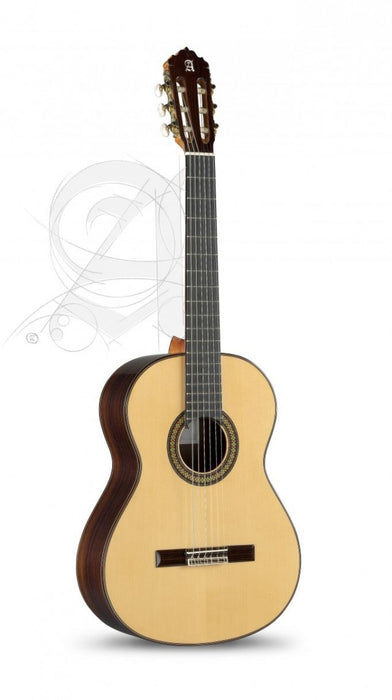 Alhambra 7PA Solid German Spruce Top Classical Guitar
Please contact us for stock availablility
A fully solid guitar with German Spruce on top and Indian Rosewood for the back and sides.
Completely crafted with solid woods, the 7P A model is made of German Spruce top, ebony for the fingerboard and Indian Rosewood for the back and sides.
Using German Spruce for the top, besides offering a lighter color at the aesthetic level, it generates different sound characteristics, another color of sound.
The sound has more duration and the evolution of the guitar over the time is much greater. It also adapts to the environment in a slower way than cedar.
It is usually said that guitars with Spruce top are more suitable for rooms with "dry" sound.
Some characteristics that will like each guitarist will depend on their taste. It is a suitable choice for the performance of this model
Made of two bones of melamine, a material which transmits the sound very well. The 7P A model is an instrument that produces a sound rich in nuances, clear and very versatile.
An instrument with concert guitar measurements
?This guitar of conservatory level, is one of the traditional models of Alhambra Guitars and it fulfills the exigencies of a concert guitar.
Like the concert models, the 7 P A has 10,6 cm in the widest part and 10 cm in the narrowest part of the side. In addition, the neck is reinforced with a strip of ebony that is hidden.
In short: the 7 P A is a guitar with concert measures, it is robust and offers a lot of security in the performance.
TOP:
 Solid German Spruce
SIDES & BACK:
 Solid Indian Rosewood
NECK:
 Mahogany Reinforced with Ebony 
FINGERBOARD:
 Ebony
MACHINE HEADS:
 Gold Plated