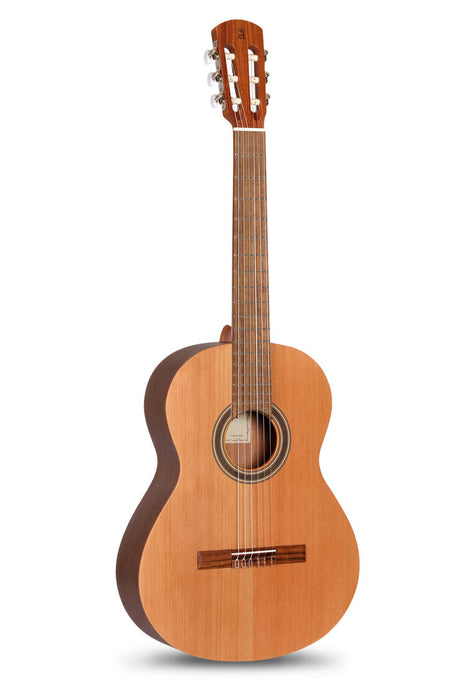 Alhambra College Classical Guitar
The Alhambra College is a new model that comes in under the Z Nature and 1C guitar as an affordable entry level guitar. This model is fully made in Spain at the Alhambra workshop with a matte look as opposed to lacquered. 
Description
It is aimed at Schools and at the entry level player wanting the true Spanish sound delivered by a solid cedar top together with "Spanish heel" construction that so few entry level guitar feature, due to the painstaking attention to detail it requires. The result you can hear the difference in every note. It was launched at the Sydney Classical Guitar Society summer school and teachers loved and thought it was great value compared to anything else on the market.  Good news is that it is the first affordable solid top, Spanish made guitar made without compromise.
This classical model has a very ergonomic neck perfect for beginners looking for ease of play. However, one thing about this guitar is the low environmental footprint left by its manufacture, because this type of wood is natural and not lacquered. This also makes the guitar very loud and resonant and an excellent guitar for school ensemble playing. What's more, this instrument is presented with a modern matte finish.
Features
Top: Solid Cedar (Thuja Plicata)

Back & Sides: Wengue (Millettia Laurentii)

Fingerboard: Mongoy (Guibourtia Ehie)

Neck: Mahogany (Khaya Ivorensis)

Bridge: Mongoy (Guibourtia Ehie)

Head: Mongoy (Guibourtia Ehie)