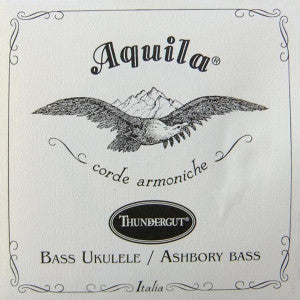 Aquila Thundergut Bass Ukulele 4 String Set
Thundergut is a special very elastic and dense material developed by Aquila that assures superior performances over the common polyurethane and silicon rubber bass strings available in the market.
Thundergut assures fast and stable intonation, no finger slips on the strings and powerful performances.
Please note: The 4 string set is predominately designed for Kala U-Bass & Ashbory basses (18"-21" scale)
Do not use on longer scale instruments.
Orders typically take 1-3 business days to process and ship. Please note that not all items are held in stock at Crescendo Music's retail store. When items are out of stock, they will be dispatched no more than 10 days after ordering. For urgent orders please contact us first to confirm stock availability.