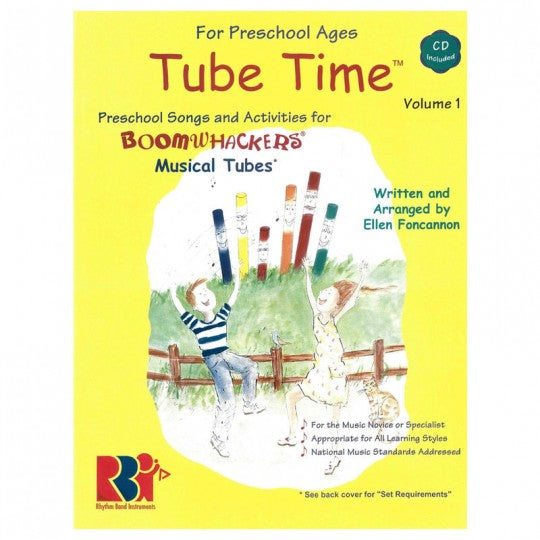 Boomwhackers "Tube Time" Book/CD
Educational Resources & Learning Materials
Volume 1 (For Preschool Ages)
Delight young children with the bright colours and unique sounds of the Musical Tubes. This teacher-friendly material is written for the pre-school teacher and music specialist alike with objectives, evaluation chart and Pre-K MENC standards included.
A cooperative approach to music making, these activities develop coordination, imagination and colour, number and letter recognition.
Features tear-out colour and letter cards based on our Chroma-Notes System. Creative, inexpensive and just plain fun! Sing-along CD. Preschool.
Volume 2 (For Preschool to Grade 2)
Music, P.E & educational tube fun for young children, with action games, colours, numbers, clocks and multi-cultural songs. Includes objectives, songs, activities, variations and "let's pretend" suggestions with P.E. & MENC standards & evaluation chart. Sing-along CD. Preschool to Grade 2.
Volume 3 (For Preschool to Grade 2)
More music, P.E. and educational tube fun. Both energetic and quiet activities, dances and games with multi-cultural and classical music. Adjust aerobic activity to suit your group.
Orders typically take 1-3 business days to process and ship. Please note that not all items are held in stock at Crescendo Music's retail store. When items are out of stock, they will be dispatched no more than 10 days after ordering. For urgent orders please contact us first to confirm stock availability.