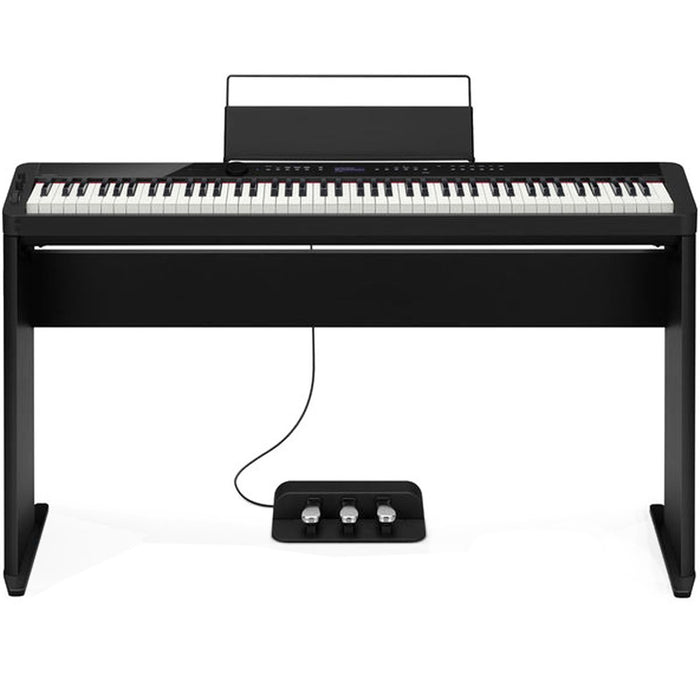 Casio Privia PX-S3100 Digital Piano Black KIT
KIT includes PX-S3100, SP34 tri-pedals, and CS68 stand.
 Need help with selecting a piano? Contact our friendly staff here
Slim, Stylish, Smart. The PXS3100 marks the culmination of fifteen years of research and development in the iconic Privia digital piano. Not only is this new range the most versatile, it's also the biggest step forward since the original.
INCREDIBLE PLAYABILITY, UNRIVALED DIMENSIONS
The PXS3100 has the most advanced key action of any portable piano, in an instrument that is more compact than any other*.
A mark of quality in an acoustic piano is in the feel of its keyboard. Each key has its own hammer weighting, key resistance, damper position and key release time, creating an incredible tone and touch.
For the first time, Casio's Smart Scaled Hammer Action Keyboard simulates the unique touch response of each individual key, delivering increased authenticity and a new level of playability.  Simulated ebony and ivory textures on the keytops complete the playing experience.
SOUND
Casio's advanced AiR piano engine models the response of every note played, from the initial instant of a key press to its release. What's more, various elements including the touch sensitivity and tonal balance can be adjusted to your preference.
There are a total of 700 AiR tones to explore on the PXS3100, which can be played solo, layered together or be assigned to different areas of the keyboard. These include incredible Electric Pianos, orchestral tones, guitars, synths and much more.
Your favourite sound combinations can be stored to any of 96 Registration Memories for instant recall.
BLUETOOTH AUDIO
With Bluetooth audio playback, the PXS3100 instantly becomes the centre of your music making, whether it be your home or studio. 
Connect any Bluetooth compatible device and listen to the music streamed through the speakers of the piano. 
No wires. No fuss. Just music! 
CONNECT YOUR DEVICES
With a USB connection, you can compose, learn and play music from your smartphone or tablet. (Cable Required). 
The PXS3100 is fully compatible with iOS and Android devices and can be used with Casio's own free Casio Music Space App. The app can show you how to play over 100 famous pieces of classical music, as well as work as a piano remote controller and PDF m
The PXS3100 is the instrument you need, wherever you need it.
6 AA Batteries will give you up to 2 hours** of playing time when out and about, and at 11.8kg in weight, this is the perfect go-everywhere piano.
You can also connect to external amplification using the Line Out connectors.
Choose the optional SC-800P soft case, specially designed to fit the PX-S series, and you have the perfect travelling solution. 
*sold separately
---
5 Year Warranty
All Casio keyboards, digital pianos and synthesizers purchased from an authorised Australian retailer are backed by a 5 year warranty.
---
Specifications
Keyboard

88-key piano keyboard
Duet: Adjustable tone range (–2 to +2 octaves)
Transpose: –12 to 0 to +12 semitones
Octave shift: –2 to 0 to +2 octaves

Sound Source

Number of Tones: 700, Layer, Split
Maximum polyphony: 192 notes
Touch Response: 5 sensitivity levels, Off
Tuning: 415.5Hz to 440.0Hz to 465.9Hz (0.1Hz units)
Temperament: Equal temperament plus 16 other types

Acoustic Simulator

Hammer response, Key off response, String resonance, Damper resonance, Damper noise, Key on action noise, Key off action noise

Sound Mode

Hall simulator (4 types), Reverb (8 types), Surround (2 types)

Other Effects

Chorus (12 types), DSP (built in to some tones + 100 presets, editable), Brilliance (–3 to 0 to 3)

Demo Song

6

Playback Function (SONG Mode)

In the MIDI Mode: Downloaded (user) song playback/ Storage of up to 10 songs in built-in flash memory, Up to approximately 320KB per song
(Based on 1KB = 1024 bytes, 1MB = 10242 bytes)
MIDI recorder song playback
USB flash drive song data (SMF) playback
Part mute: L, R, L+R
In the Audio Mode: Audio recorder recording and playback
Center cancel
Song Volume: Adjustable (for both MIDI Mode, Audio Mode)

MIDI Recorder

Real-time recording and playback as MIDI data
Number of Songs: 5
Number of Tracks: 3
Capacity: Approximately 30,000 notes per song (total of three tracks)
Data storage: Built-in flash memory

Audio Recorder

Real-time recording and playback as audio data
Number of songs: 99 (files)
File format: WAV (linear PCM, 16bit, 44.1kHz, stereo)
Maximum recording time: Approximately 25 minutes per file
Recording medium: USB Flash Drive

Auto Accompaniment

Built-in Rhythms: 200
One Touch Preset: 200
Auto Harmonize: 12 types
Auto Accompaniment Volume Level: Adjustable

Music Preset

310

Arpeggiator

100 types

Metronome

Provided as rhythm type
Beat bell: Off, 1 to 9 (beats)
Tempo Range: 20 to 255
Metronome Volume Level: Adjustable (as Auto Accompaniment volume level)

Registration Function

96 sets maximum (4 sets, 24 banks)

Pedals

DAMPER PEDAL jack: For connection of the included pedal (SP-3) or a separately available CASIO sustain pedal, selectable function (sustain (off, on), sostenuto (off, on), soft (off, on), arpeggio hold (off, on), play/stop, fill-in)
PEDAL UNIT jack: For connection of a separately available pedal unit (SP-34), simultaneous use of three pedals (Sustain (off, half, on), sostenuto (off, on), soft (off, on))
EXPRESSION/ASSIGNABLE jack: For connection of a separately available expression pedal, the included pedal (SP- 3), or a separately available CASIO sustain pedal, selectable function (expression, master volume, tempo, layer balance, sustain (off, on), sostenuto (off, on), soft (off, on), arpeggio hold (off, on), play/stop, fill-in)

Other Functions

Auto Resume, Operation Lock

Bluetooth Connection

Bluetooth Version: 5.0
Supported Profile: A2DP
Supported Codecs: SBC
Wireless Output: Bluetooth Class 2
Transmission Frequency Range: 2402 to 2480 MHz
Maximum Wireless Output: 4 dBm

MIDI

16-channel multi-timbre receive

Pitch Bend Wheel

Pitch bend range: 0 to 24 semitones

Knobs

2
Knob sets (knob function presets): 14

Inputs/Outputs

PHONES jacks: Stereo mini jacks (3.5mm) x 2
Power: 12V DC
AUDIO IN jack: Stereo mini jack (3.5mm)/ Input impedance: 10kΩ, Input voltage: 200mV LINE OUT R, L/MONO jacks: Standard jacks (6.3mm) x 2/ Output impedance: 2.3kΩ, Output voltage: 1.3V (RMS) MAX
USB port: Type B
USB flash drive port: Type A
DAMPER PEDAL jack: Standard jack (6.3mm)
EXPRESSION/ASSIGNABLE jack Standard jack (6.3mm)
PEDAL UNIT jack: Proprietary jack

Acoustics

Amp output: 8W + 8W
Speakers: 16cm x 8cm (oval) x 2

Power Supply

2-way
Batteries: 6 AA-size alkaline batteries
Battery Life: Approximately 2 hours continuous operation on alkaline batteries
Actual continuous operation time may be shorter due to battery type and performance type.
AC Adaptor: AD-A12150LW
Auto Power Off: Approximately four hours (under AC adaptor power) or six minutes (under battery power) after last operation, can be disabled.

Power Consumption

15W

Dimensions

132.2 (W) x 23.2 (D) x 10.2 (H) cm (52 1/16 x 9 1/8 x 4 inch)

Weight

Approximately 11.4kg (25.1 lbs) (without batteries)

Included Accessories

Wireless MIDI & Audio Adaptor (

WU-BT10)

Pedal (SP-3) (one unit pedal)

AC Adaptor (AD-A12150LW)

Music Stand (for sheet music)

EAN code

4971850362654
Any questions about the piano? Contact us here
Orders typically take 1-3 business days to process and ship. When items are out of stock, they will be dispatched no more than 10 days after ordering. For urgent orders please contact us first to confirm stock availability.