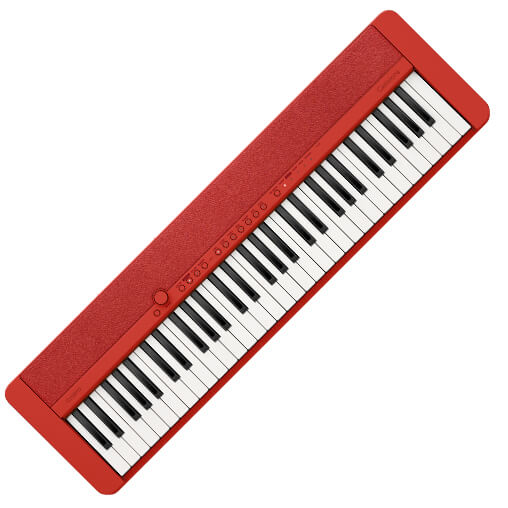 Casiotone CTS1 61 Key Keyboard Red
NEW CASIOTONE KEYBOARD
Wonderful keyboard by Casio released in April 2021. The Casiotone series represents 61 key keyboards for lightweight and portability. The CTS-1 fills in many of the missing features from the previous Casiotones such as the touch sensitivity, bluetooth compatibility, Chordana app enabled, and Casio's Scaled hammer action is now available on the CTS-1. In addition, the CTS-1 now has onboard tone layering, reverb, chorus, and delay effects as seen from the CTX Series, allowing more versatility when playing on the go.
Most importantly, Casio's AIX Sound Source technology is finally in the Casiotone Series! To take it one step further, the Surround Sound system will immerse yourself in the zone with just a push of a button.
61 keys 

touch sensitive keys

Integrated AIX Sound Source
Smart scaled hammer action
Bluetooth compatible 

(available separately)

Optional AA battery power

 

Layering feature

Reverb, chorus, delay
Surround audio system
Onboard recording + midi
Strap pin installed 
Simply Focused 
on You
Bring life and light to your world with the CT-S1 – a minimalist design allowing you to focus solely on the music. Functionality and design that is all about you, with a simple interface, and a color palette to suit every aesthetic and complement any décor. Create the perfect atmosphere with the CT-S1's sleek look and uplifting sound.

 



Sound That 
Truly Moves You
Bring vibrancy and emotion to your music with the CT-S1 – a keyboard like no other. Featuring AiX Sound Source, this innovative technology is designed to enable electronic instruments to produce the perfect tones and, combined with the integrated acoustic sound system, bring each note to life.



Innovative Bass-Reflex System Packs a Punch in a Compact Space
[Horizontal Bass-Reflex System]

The Horizontal Bass-Reflex System is a space-saving technology designed to produce powerful bass, even from slim-bodied instruments. Rather than being directly mounted to the upper housing, the speaker is mounted on a component attached to the lower housing, forming a dedicated enclosure (speaker box). Its solid structure enables the Bass-Reflex System to produce compelling bass while controlling distortion and sympathetic vibrations, while enclosure parts and screws that could obstruct air flow or result in sympathetic vibration were also carefully eliminated. The ducts are rounded, meaning that sounds generate less noise as they travel through them, and the bottom surface of the case is slightly raised to prevent bass tones from being trapped. The elliptical design of the speakers achieves a slimmer body with a larger surface area, while the two-stage magnet generates a stronger magnetic force. Also, the edges of the cones (diaphragms) are made from fabric for a crisp, clean sound.


Wireless Capability 
Expands Casiotone's Potential
[Bluetooth®

 

MIDI / Audio]


The WU-BT10 wireless MIDI & AUDIO adaptor (sold separately) supports both audio and MIDI without an external power source – simply plug it into your Casiotone to take advantage of new possibilities. Audio and MIDI data are transmitted together via USB using a proprietary protocol. Allow users to play back their favorite tunes from smart devices through the Casiotone speakers, and transmit MIDI data between their Casiotone and smart devices or other electronic equipment. Although latency and signal dropout can be a problem when using Bluetooth, Casio system has been carefully optimized for low latency and high stability. Enjoy stress-free music playback or play your Casiotone through the app.


Intelligent Sound Adjustment 
Ensures Big Sound, 
Even at Low Volumes
[Volume-Sync EQ]
Volume-Sync EQ automatically corrects the balance between higher frequency sounds and the low register, which is subjectively quieter at low volumes. Optimizing the sound based on the characteristics of human hearing, the result is a pleasing tonal balance at any volume. Simply turn the volume knob and enjoy the same full-bodied sound.


Custom LSI Processor 
Vividly Capture 
Subtle Nuances
To achieve this refined expressiveness, Casio has developed proprietary large-scale integrated (LSI) processors, which are an integral part of the new Casiotone. The high-performance custom LSI chips are efficiently designed for optimal sound expression, and the unique waveform compression technology makes rich, high-definition sound a reality. For example, not only are the source instruments painstakingly recorded to reflect the nuance of the performance, but the LSI chips can also model the characteristics of amplifiers found in vintage instruments. This is possible through high-speed processing of the considerable data amassed from these original vintage instruments, enabling a superbly realistic response to musicians' performances.


The Classic Casio Sounds from 1980

AiX Sound Source brings back the beloved sounds of Casio's classic electronic instruments with CASIO CLASSIC TONES, an exclusive selection of 12 tones for keyboardists. Featured instruments include the flagship 1980 Casiotone 201 (CT-201), the legendary Casio ultracompact VL-1, as well as the pro musicians' synthesizers of choice, the CZ-101 and VZ-1. Recreate the tonal atmosphere of a past era with these classic sounds.

Input/Output Terminals
USB TO HOST terminal
USB TO DEVICE terminal
DC 9.5V terminal
PHONES/OUTPUT jack
AUDIO IN jack
PEDAL jack
Specifications

-
Keyboard
Number of Keys: 61
Touch Response: 3 sensitivity levels, off
Sound Source
AiX
Polyphony: 64
Tones
61
ADVANCED TONES: 10
CASIO CLASSIC TONES: 12
Layer
2 (Upper1/2)
Sustain
Yes
Effects
Reverb: 24 (+Preset for each tone)
Chorus: Yes (Preset for each tone)
Delay: Yes (Preset for each tone)
DSP: Yes (Preset for each tone)
Master EQ: 10
Volume-Sync EQ
Yes
Surround
Yes
Metoronome
Yes
Songs
Demo Song: 1 + 10 (Piano demo)
My Set Up Function
Yes
Tone Memory Function
Yes
Transpose
-12 to 0 to +12 Semitones
Tuning
A4 = 415.5 Hz to 440.0 Hz to 465.9 Hz
Octave Shift
-3 to 0 to +3 Octaves
Scale Setting
Equal temperament + 16 variations
MIDI Recorder
Yes
Songs: 1
Memory Capacity: 40,000 notes
General MIDI
Yes
Connection to Bluetooth®
Bluetooth® MIDI/Audio: Yes (with optional adaptor)
Connection to App
Supported App: Chordana Play
Terminals
PHONES / OUTPUT: Stereo mini
PEDAL: Standard
AUDIO IN: Stereo mini
USB TO HOST: micro B
USB TO DEVICE: Yes *for WU-BT10 only
Strap Pin
Yes
Speakers
(13cm x 6cm) x 2
Horizontal Bass Reflex: Yes
Amplifiers
2.5W + 2.5W
Power Supply
AC Adaptor: AD-E95100L (DC 9.5V)
Battery: AA-size alkaline batteries x 6 or AA-size rechargeable nickel metal hydride batteries* x 6
Battery Life: Approximately 3 hours continuous operation



Actual continuous operation time may be shorter due to battery type, performance type, and usage environment.




* Measured values while using eneloop batteries. eneloop is a trademark of Panasonic Corporation.

Power Consumption
7.5 W
Dimensions
930x258x83(mm)
Weight
4.5kg
Included Accessories
Music stand, Strap lock
Optional Accessories (sold separately)
Pedals (SP-3, SP-20), Headphones (CP-16), AC adaptor (AD-E95100L), Wireless MIDI & Audio Adaptor (WU-BT10), Special stand (CS-2X), Benches (CB-7, CB-30BK, CB-30BN), Carrying case (SC-650B)
EAN code
CT-S1WE: 4971850315087
CT-S1BK: 4971850315070
CT-S1RD: 4971850315094
Orders typically take 1-3 business days to process and ship. When items are out of stock, they will be dispatched no more than 10 days after ordering. For urgent orders please contact us first to confirm stock availability.