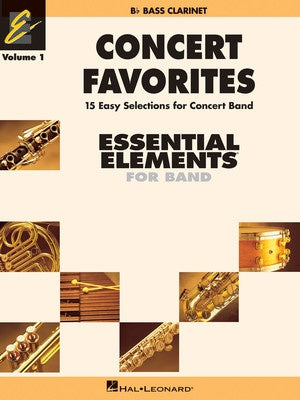 Concert Favorites Vol. 1 - Bb Bass Clarinet
Organize concerts with your beginning groups quickly and painlessly withthis marvelous band collection of arrangements from the popular Essenti al Elements Band Series. Featuring 15 titles that correlate with the playing levels from Book 1 of the Essential Elements Band Method, this collection provides a variety of styles perfect for that first concert experience.
Includes: Let's Rock, Majestic March, When The Saints Go Marching In, Mickey Mouse March, Power Rock, Farandole, Jus' Plain Blues, My Heart Will Go On, Rainbow Collection, Supercalifragilisticexpialidocious, Drums of Corona, Laredo (Concert March), Pomp and Circumstance, Stratford March and Do-Re-Mi.