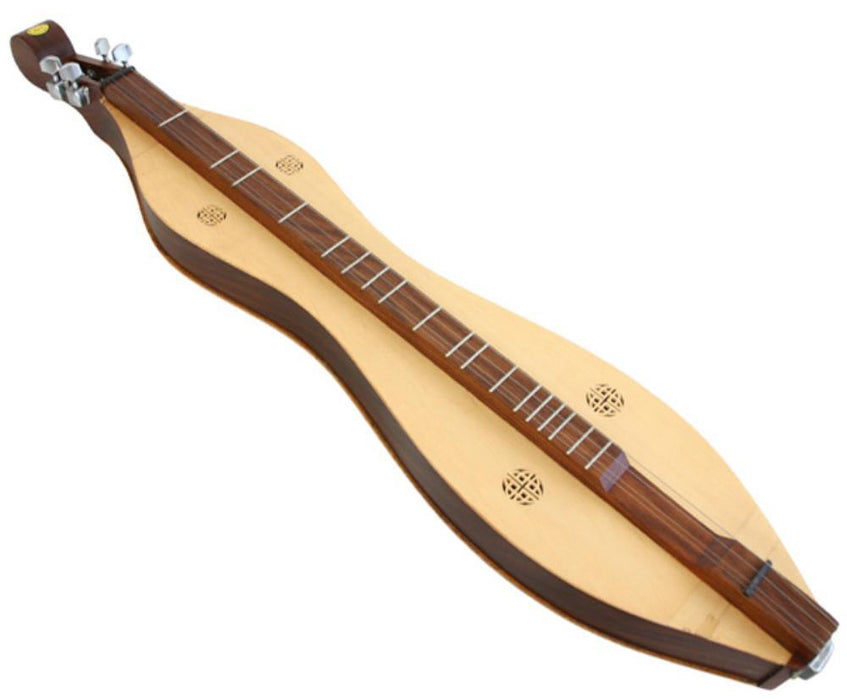 Mountain Dulcimer Hour Glass Shaped
Please contact us for item availability
Mountain dulcimer. Four string hour-glass shaped mountain scroll dulcimer. Diatonically fretted for easy playability.
The mountain dulcimer, also called the Appalachian dulcimer, or lap dulcimer, is played on the lap and has lighter gauge strings than a guitar. Easy to learn - frets are arranged diatonically like the white keys on a piano. This model has an hour-glass shape and 4 classic f-hole openings on the spruce soundboard. The neck, back and sides are maple. Features a nickel-plated crown shaped tailpiece. The scroll peg head features 4 nickel-plated enclosed mechanical geared machine heads with a 4:1 ratio and there are 4 strings, including 2 melody strings, 1 middle string and 1 bass drone string.
Scale Length: 25.5 inches (648mm)

4 enclosed machine heads (tuners)

18 Metal Frets (Including the 6 1/2 and 13 1/2 Frets)
Please Note - Orders typically take 1-3 business days to process, and will be despatched no more than 10 days after ordering.