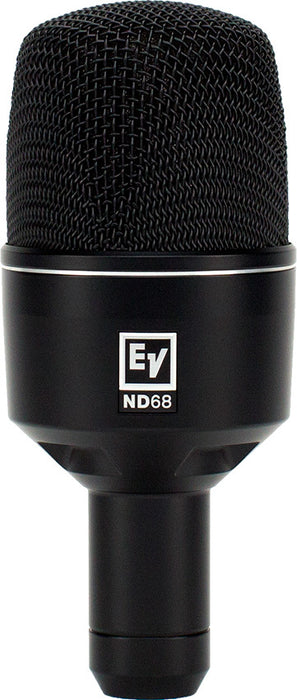 Electro-Voice ND68 Dynamic Supercardioid Bass Drum Microphone
Includes Gig Bag, Stand Clip & Thread Adaptor
The Electro-Voice ND68 is a robust, high-performance dynamic supercardioid kick drum and low frequency instrument microphone.
The ND68 supercardioid polar pattern provides excellent acoustic isolation from nearby instruments, and its voicing characteristics deliver a deep low end, relaxed midrange, as well as high-frequency content for aggressive top-end punctuation.
The ND68 dynamic capsule contains a large Mylar diaphragm, which delivers a rich and detailed frequency response by combining its large surface area for tonal balance with its low-mass high-velocity material for exceptionally fast transient response. Capable of handling 144 dB SPL, the ND68 will comfortably manage close micing of high SPL sound sources.
The ND68 capsule uses a humbucking coil that attenuates AC hum and electromagnetic interference. ND dynamic mics can be used with confidence near speaker cabinets and EMF generating equipment racks.
The ND68 Memraflex grille is made of a durable tight-mesh grille wire that withstands extraordinarily-rough treatment. Your microphone remains protected and looking good gig-after-gig, year-after-year.
For additional protection, the ND68 capsule contains a hydrophobic cloth membrane which prevents moisture and debris from reaching the diaphragm.
Specifications:
Weight Net: 13.19oz (374g)
Height: 5.63" (143mm)
Audio Frequency Response: 20 - 11,000
Case Material: Die cast zinc
Connector: Type 3-pin XLR
Diameter (Max): 2.39" (60.8mm)
Element: Dynamic
Family: ND Series
Finish: Black polyurethane paint
Impedance, Low-Z balanced: 150?
Maximum SPL: > 140dB
Mic Type: Instrument
Open Circuit Voltage: 0.8mV/Pascal
Polar Pattern: Supercardioid
Power Requirement: Passive
Accessories Included: (1) Gig Bag, (1) stand clip and (1) Euro thread adapter
Orders typically take 1-3 business days to process and ship. Please note that not all items are held in stock at Crescendo Music's retail store. When items are out of stock, they will be dispatched no more than 10 days after ordering. For urgent orders please contact us first to confirm stock availability.