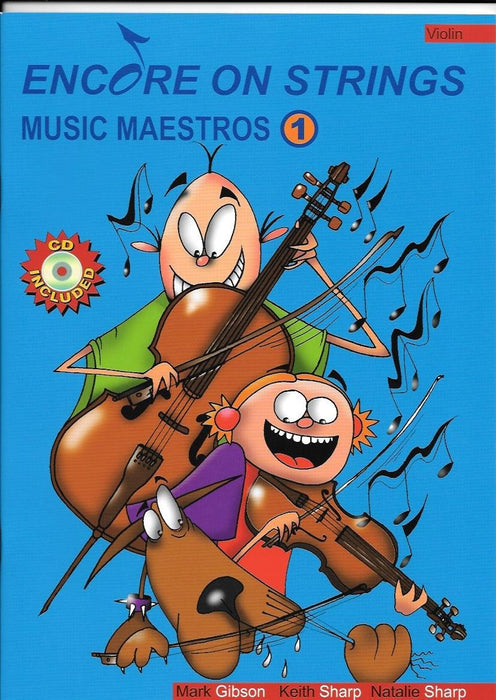 Encore on Strings Music Maestros Violin Book
Encore on Strings Music Maestros is a colourful, engaging series perfect for beginner string students. Featuring fun characters and illustrations, the series is well-paced and feature repertoire pieces, daily warm-ups, scales, backing tracks and more.
Book One begins with the essentials of learning about the instrument. Due emphasis is placed on good posture as the foundation for a reliable technical setup. Illustrations show students the fundamental points for positioning their instrument to achieve a well balanced and aligned stance or sitting position. Students are also guided on how to form a balanced and flexible bow hold. An awareness of the relationship between tone quality, resonance, secure pitch, and technique is ongoing throughout the series.
Book Two features more challenging pieces and introduces slurred bowing. Advancing bowing techniques such as martelé, hook stroke and spiccato are also covered in this level. Other focus areas include dynamics, the introduction of C and G Major finger patterns, and a wider selection of rhythmic units. The inclusion of ensemble options completes a balanced and motivating approach to the early teaching of strings.
Encore on Strings is an inspiring program that delivers on every aspect of learning and teaching. The two-level Music Maestros course books for violin, viola, cello, and double bass are a dynamic, well-paced series suitable for both private and group tuition.