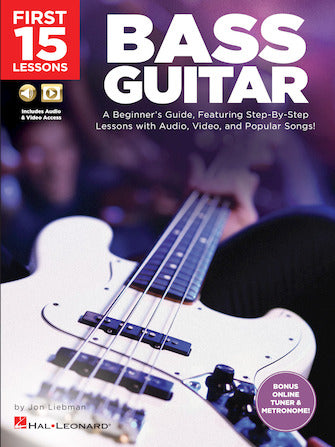 FIRST 15 LESSONS BASS GUITAR BK/OLM
The First 15 Lessons series provides a step-by-step lesson plan for the absolute beginner, complete with audio tracks, video lessons, and real songs! Designed for self-teaching or for use with an instructor, you'll build a solid foundation as you work through each lesson, learning the basics of the instrument and music reading while practicing the many exercises, concepts and song excerpts within. Must-know instruction so you can start playing right away, with a free online tuner and metronome!

The bass guitar book features lessons on: bass fundamentals, music reading, tuning, the 1-5 pattern, arpeggios, grooves, position shifts, scales, syncopation, chromatics, swing/shuffle feel, and blues, funk & rock styles. Includes full bass lines from five real songs: Get Ready (The Temptations) • I Shot the Sheriff (Bob Marley & The Wailers) • Seven Nation Army (The White Stripes) • Smooth (Santana) • Super Freak (Rick James).