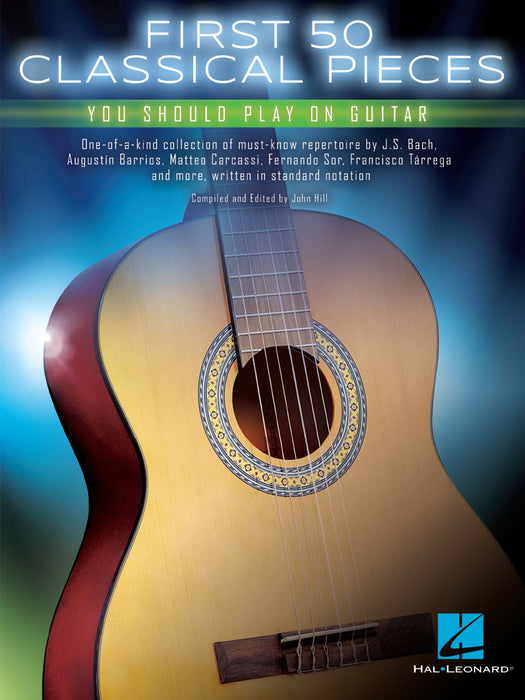 FIRST 50 CLASSICAL PIECES PLAY ON GUITAR
If you're looking for a comprehensive collectino of the best classical guitar repertoire, this is it! Each piece is written in standard notation (no tab) and includes essential right- and left-hand fingerings.
This collection includes compositions by J.S. Bach, Augustin Barrios, Matteo Carcassi, Domenico Scarlatti, Fernando Sor, Francisco Tárrega, Robert de Visée, Antonio Vivaldi and many more.
Contents
Adelita (Mazurka)
Allegro
Allegro
Allegro
Allegro Solemne
Allemande
Andante Religioso
Aria
Bianco Fiore
Bouree
Bourree
Canarios
Cello Suite I
El Noi De La Mare (The Son Of Mary)
El Testament D'Amelia
Fantasie
Gagliarda
Gavotte
Gavotte
Guardame Las Vacas
Lady Hunsdon's Puffe
Lágrima
Largo
Malagueña
Menuett
Menuetto
Nocturne
O Mio Babbino Caro
Pavane No. 1
Prelude
Prelude, Fugue And Allegro BWV 998
Preludio
Recuerdos de la Alhambra
Romance
Rondo, Op. 22
Sarabande
Sonata In A Major, K. 208
Sonata, K. 31
Study In E Minor
Study In E Minor
Study In G Major
Study, Op. 60, No. 3
Study, Op. 60, No. 7
Study Op. 6, No. 6
Study Op. 35, No. 13
Study Op. 35, No. 22
Study Op. 31, No. 20
Suite In E Minor, BWV 996
Vivace
Volte