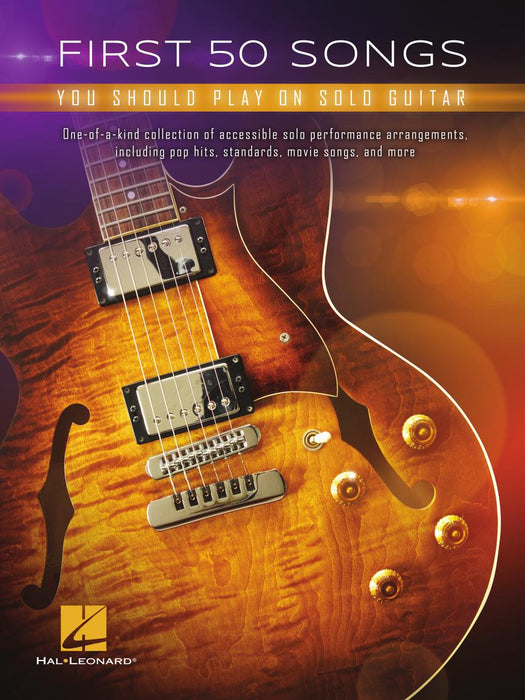 FIRST 50 SONGS YOU SHOULD PLAY ON SOLO GUITAR
So you've had some guitar lessons and are ready to branch out to play the music you want to play ... now what? This songbook should be the perfect fit for you! It features 50 favorite pop and jazz standards arranged for beginners to give you the confidence and encouragement to keep moving forward with your lessons.
Songs include: Africa • All of Me • Blue Skies • California Dreamin' • Change the World • Crazy • Dream a Little Dream of Me • Every Breath You Take • Hallelujah • Hello • Killing Me Softly with His Song • La Vie En Rose (Take Me to Your Heart Again) • My Favorite Things • Over the Rainbow • The Pink Panther • River Flows in You • Stand by Me • Time After Time • Wonderful Tonight • Yesterday • You Raise Me Up • Your Song • and more.
Content
Africa
All I Ask Of You
All Of Me
And So It Goes
Bésame Mucho (Kiss Me Much)
Blue Skies
California Dreamin'
Can't Help Falling In Love
Change The World
Cheek To Cheek
Come Away With Me
Crazy
Dream A Little Dream Of Me
Embraceable You
Every Breath You Take
Gabriel's Oboe
The Godfather (Love Theme)
Hallelujah
He's A Pirate
Hello
How Deep Is Your Love
I Just Called To Say I Love You
In My Life
Killing Me Softly With His Song
La Vie En Rose (Take Me To Your Heart Again)
Little Wing
More (Ti Guarderò Nel Cuore)
My Favorite Things
Oblivion
One Of Us
Over The Rainbow
People Get Ready
The Pink Panther
Quiet Nights Of Quiet Stars (Corcovado)
River Flows In You
'Round Midnight
She's Got A Way
Songbird
Stand By Me
Sunrise, Sunset
Sway (Quien Sera)
Thinking Out Loud
Time After Time
What A Wonderful World
With Or Without You
Wonderful Tonight
Yesterday
You Are So Beautiful
You Raise Me Up
Your Song