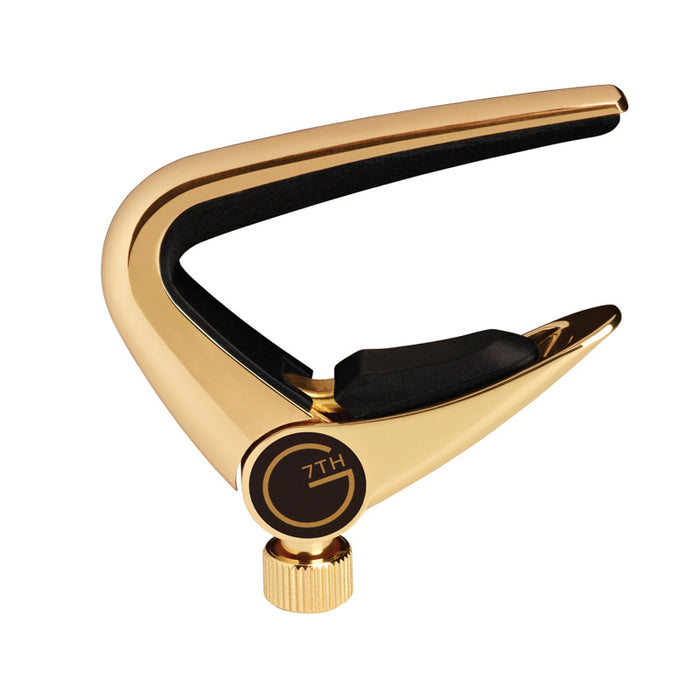 G7 Newport 6 String Capo for Steel String Guitars 18kt Gold Plated
G7 Newport 6 String Capo for Steel String Guitars 18kt Gold Plated
The flip lever design of the G7th Newport is ideal for players who want a slick, easy to use capo, but who prefer to adjust tension using an adjusting screw.
The Newport is light weight and low profile
Wrap around rubber protects your guitar neck
Comes in 8 versions including Partials (Cut capos)
The Newport capo is a flip lever design, where the lower arm secures the capo to the neck of the guitar by means of an over-centre cam. It is simple and effective. 
This design often suits players who prefer to adjust the tension of their capo With an adjusting knob.
SAFEGUARDS YOUR TONE & PROTECTS YOUR NECK
As on all G7th capos, the inert silicone wrap around rubber and internal G7th design features eliminate deadening of tone and avoid metal to wood contact on your guitar neck.
FASTER AND EASIER TO USE.
You can easily make fine adjustments to the tension while your Newport capo is locked in position – you don't have to release, adjust and reattach. Also, it's full-length rubber means you don't have to adjust the height of the capo before latching.
LIGHTER WEIGHT AND LOWER PROFILE
Less intrusive on your guitar neck, doesn't interfere With your hand.