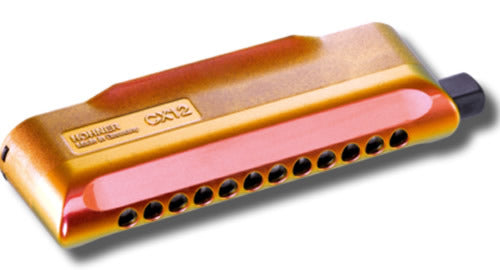 Hohner CX12 Jazz Chromatic Harmonica Red to Gold Finish in the Key of C
The Chromonica Revolution!
CX12 Jazz Wow!! That's quite a harmonica. The sleek lines of the racy looking 'Jazz', constructed on the basis of the tried and tested CX12, make it a real attentiongrabber.
In response to requests from a number of CX12 fans, we've made the new mouth-piece design narrower, which some players find suits their embouchure better. The new housing is fully compatible with all other CX12 models and is coated using an Ultraglide multilayer treatment.
Features:
Award winning design
Narrower mouthpiece radius for optimal playing comfort
Injection moulded plastic comb
Ergonomic plastic casing / mouthpiece
Exceptionally airtight & service-friendly
48 Classic chromonica reeds
1.05 mm brass reed plates
Replacement reed plates available
Round channel openings
Striking red-to-gold finish
Available in C-major
Hard shell case
Made in Germany
CX12 Line
The revolutionary design concept of the CX12 is as simple as it is ingenious. The comb and reed plate assembly is mounted in a one-piece mouthpiece / cover unit and secured in place by a powerful steel spring at the back. Despite its light action, the slide is exceptionally airtight.
The CX12 was first introduced at the Frankfurt Music Trade Fair in 1992 and went on to win the German Industry Design Award shortly afterwards.
This outstanding construction remains essentially unchanged today and is the first choice of chromatic stars such as Bill Barrett and LA studio crack Tollak Ollestad. All CX12 models are hand-made in Germany.
Orders typically take 1-3 business days to process and ship. Please note that not all items are held in stock at Crescendo Music's retail store. When items are out of stock, they will be dispatched no more than 10 days after ordering. For urgent orders please contact us first to confirm stock availability.