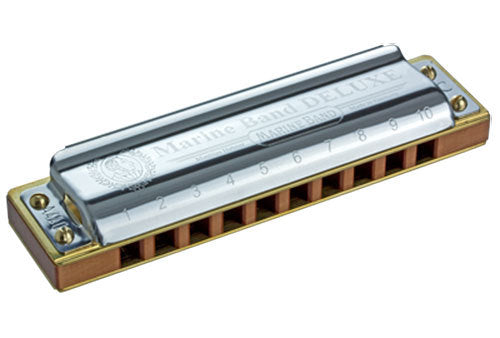 Hohner Marine Band Deluxe Harmonica
Back to the Roots - State of the Art!
The Marine Band Deluxe brings the incomparable sound of the Marine Band 1896 into the 21st century with a variety of improvements which optimize handling and ensure greater volume and faster response, while retaining the rich and powerful HOHNER sound.
Features:
Improved cover design gives greater volume and stability while preventing reed rattle.
Completely assembled with screws for easy maintenance.
Pear wood comb is triple-lacquered, minimizing swelling and ensuring greater volume and faster response.
Reed plate edges and channel openings with new
Ultraglide coating are rounded off for greater playing comfort.
Sturdy zipper case allows moisture to evaporate while keeping dust out.
HOHNER Marine Band
When Jacob HOHNER filed the patent application for his new harmonica design on January 30th 1896 in New York, nobody could have dreamed of the extent to which he would affect the future of music. Originally conceived as a folk instrument, the Marine Band has had a considerable influence on the development of blues, folk, rock and pop music. In the early 20th century, huge numbers of Marine Band harmonicas were already being exported to the USA. Here they were eagerly adopted by African Americans, who discovered hitherto unknown playing techniques which enabled them to find their own new forms of musical expression on the instrument. The music which today we call the blues evolved out of their work songs.
The Marine Band can be heard on virtually every recording by blues legends such as Little Walter Jacobs, Sonny Boy Williamson I & II, Big Walter Horton, Sonny Terry, Jimmy Reed or Big Mama Thornton. The blues would not be what it is today without the Marine Band harmonica, but it was not exclusively a blues instrument. This model was also the first choice of artists such as Johnny Cash, John Lennon or Bob Dylan.
The Marine Band became a true people's instrument and was played in every conceivable situation, from the back porch to the street corner to the concert hall. It contributed to the success of countless hit records, TV and film themes and has even been immortalized in literature. This astonishingly compact little instrument defines how the majority of people perceive the harmonica to this day.
All Marine Bands are made in Germany
Orders typically take 1-3 business days to process and ship. Please note that not all items are held in stock at Crescendo Music's retail store. When items are out of stock, they will be dispatched no more than 10 days after ordering. For urgent orders please contact us first to confirm stock availability.