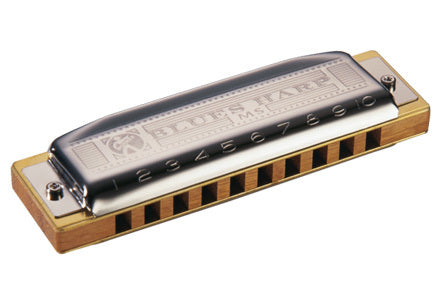 Hohner MS Series Blues Harp Harmonica
The Legendary Harp For Blues!
The brand name "Blues Harp®" has attained cult status in the contemporary music scene.
The model which bears the name features a functional design combining a wooden comb, high covers without side vents and high quality reed plates to give the instrument its typical bluesy sound, which has made it immensely popular with beginning and intermediate players alike.
Blues Harp®... Every now and again, a branded article achieves such a high degree of success and widespread distribution that the brand name becomes synonymous with the generic product. This has certainly been the case with the HOHNER Blues Harp®, now well into its fifth decade as HOHNER's most popular diatonic model.
Available in the key of C, D, Db, E, Eb, F, G, Gb, A, Ab, B,and Bb.
Features:
Doussié wood comb
Stainless steel covers without side vents
20 MS reeds
0.9 mm brass reed plates
Available in all 12 major keys
Made in Germany
Hohner MS Series
The abbreviation "MS" stands for Modular System, an integrated concept for harmonica design from HOHNER. All MS components (covers, reed plates and combs) are fully compatible, permitting the player to create a combination to suit his or her individual tastes and requirements.
Orders typically take 1-3 business days to process and ship. Please note that not all items are held in stock at Crescendo Music's retail store. When items are out of stock, they will be dispatched no more than 10 days after ordering. For urgent orders please contact us first to confirm stock availability.