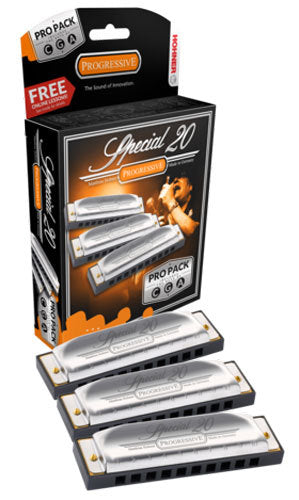 Hohner Special 20 Harmonica 3-Pce Pro Pack in the Keys C, G, A
The Workhorse Harmonica For Over 40 Years!
Save money with the Special 20 Pro Pack, the three most popular keys of C, G and A.
The Special 20 has reed plates which are recessed into the injection moulded plastic comb, creating a projecting mouthpiece which offers unparalleled playing comfort. Rounded covers with closed sides give a warm, powerful tone which has made the Special 20 a favourite among rock and country players as well as blues musicians, with a rich chord sound thanks to the traditional HOHNER tuning.
Features:
German craftsmanship provides superior response, bendability and tone
Precision molded plastic comb for unmatched comfort and durability
Recessed reed plates and airtight design for consistently excellent performance
Progressive Series
The instruments of Hohner's Progressive Line all set new standards in harmonica design: the Golden Melody, with its graceful 1950s retro look and tempered tuning, the Special 20, the world's first harmonica with recessed reed plates, which has inspired countless imitations, or the new Rocket, the loudest and most comfortable plastic body harmonica on the market today!
Whether harmonica pioneers such as Howard Levy and Carlos del Junco, individualists like Mariano Massolo, young live-wire performer Rachelle Plas or up-and-coming jazz virtuoso Konstantin Reinfeld, all of them find their favorites in the Progressive Line.
All models in the Progressive Line are made in Germany
Orders typically take 1-3 business days to process and ship. Please note that not all items are held in stock at Crescendo Music's retail store. When items are out of stock, they will be dispatched no more than 10 days after ordering. For urgent orders please contact us first to confirm stock availability.