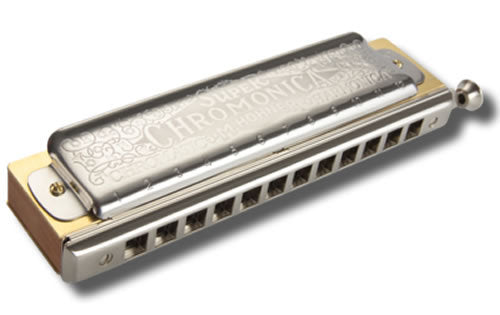 Hohner Super Chromonica Chromatic Harmonica
The Economic Entry to Chromatics!
Due to its simple construction and good response, this harmonica is ideal for beginners. Three complete octaves from C4 up to C7 provide a tonal range suitable for most classical works.
Features
Plastic injection moulded comb
48 notes, 3 octave range,
C-major
1.05 mm brass reed plates
Robust construction
Wider channel openings make it easy for the beginner to play single notes
Stainless steel covers
Chrometta Line
The robustly constructed and reasonably priced models of the Chrometta series are the perfect starting point for learning chromatic harmonica. Larger channel openings in combination with the projecting mouthpiece ensure great response and make it easier for the beginning player to hit single notes accurately.
The Chrometta was first released in 1956 and introduced the concept of a divided slide, integrated into the comb/mouthpiece unit, which is still used in this model today. This feature makes the harmonica very service-friendly and is resistant against moisture as well as gliding easily on the lips.
Orders typically take 1-3 business days to process and ship. Please note that not all items are held in stock at Crescendo Music's retail store. When items are out of stock, they will be dispatched no more than 10 days after ordering. For urgent orders please contact us first to confirm stock availability.