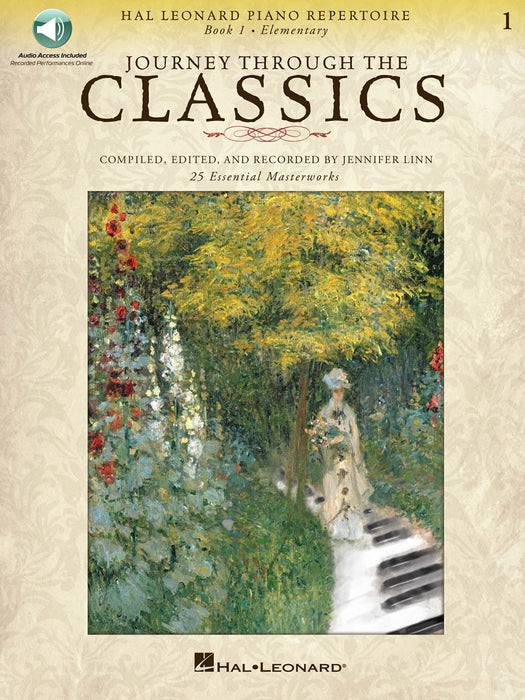 Journey Through the Classics: Book 1 Elementary with Audio Access
Journey Through the Classics is a four-volume piano repertoire series designed to lead students seamlessly from the earliest classics to the intermediate masterworks. The graded pieces are presented in a progressive order and feature a variety of classical favorites essential to any piano student's educational foundation.
Benefits: Progressive order provides a variety of musical styles in a logical sequence; Includes a reference chart with the stylistic period and challenge elements listed for each piece; Authentic repertoire ideal for auditions and recitals; and more. Quality and value make this series a perfect classical companion for any method! 25 pieces by Gurlitt, Hook, Türk, Diabelli, Kohler, Pachelbel, Reinagle and more.

Contents: BEYER: Lyrical Etude • CZERNY: Etude in G • DIABELLI: Bagatelle • Melody • GRAUPNER: Bourree in D minor • GURLITT: Dance • Etude in E minor • Hunting Horns • Little Bird • Little Waltz • Vivace • HOOK: Gavotta • Minuet in C • KOHLER: Follow the Leader • LINN: Classic Minuet • PRAETORIUS: Renaissance Dance • RAMEAU: Menuet en Rondeau • REINAGLE: Allegro • Minuet • Procession • SALUTRINSKAYA: Shepherd's Flute • TURK: Little March • The Pennywhistle • VOGEL: The Brave Horseman • WOHLFAHRT: Romance.
The accompanying audio is accessed through Hal Leonard's popular MyLibrary system using the provided code. The audio can be streamed or downloaded and includes PLAYBACK+, a multi-functional audio player that allows you to slow down audio without changing pitch, set loop points, change keys, and pan left or right.