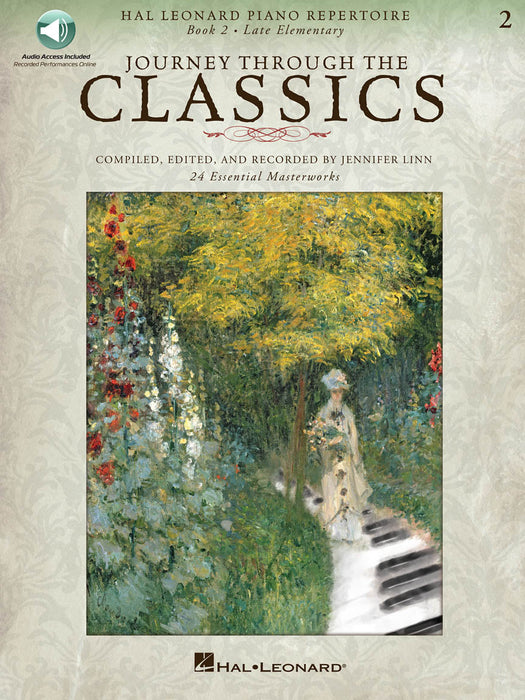 Journey Through the Classics: Book 2 Late Elementary with Audio Access
Journey Through the Classics is a four-volume piano repertoire series designed to lead students seamlessly from the earliest classics to the intermediate masterworks. The graded pieces are presented in a progressive order and feature a variety of classical favorites essential to any piano student's educational foundation. Benefits: Progressive order provides a variety of musical styles in a logical sequence; Includes a reference chart with the stylistic period and challenge elements listed for each piece; Authentic repertoire ideal for auditions and recitals; and more. Quality and value make this series a perfect classical companion for any method! 24 pieces by Beethoven, W.A. Mozart, Kuhlau, Streabbog, Gurlitt, Camidge, Petzold, Diabelli and more.

Contents: ARNOLD: Giga • BACH: Minuet in G • BEETHOVEN: Russian Folk Song • CAMIDGE: Church Bells • DIABELLI: Bagatelle • DUNCOMBE: Sonatina in C • Trumpet Tune • FUCHS: Sad at Heart • GURLITT: Bright Sky • Morning Prayer • Night Escape • KUHLAU: Scotch Dance • LE COUPPEY: Melody (Arabian Air) • Musette • LYNES: Tarantella • L MOZART: Burleske • Menuet in F • WA MOZART: Menuet in F • PACHELBEL: Sarabande • PETZOLD: Menuet in G • STREABBOG: Distant Bells • TELEMANN: Minuet in G • VOGEL: Waltz • WILTON: Little Sonata

Includes access to audio tracks online for download or streaming!