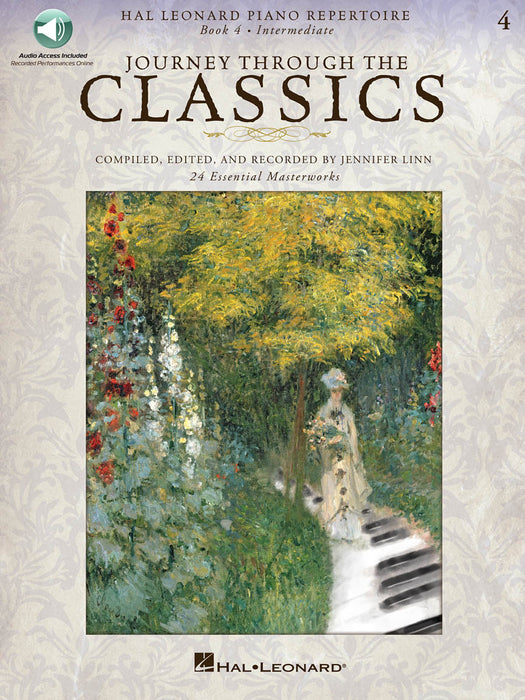 Journey Through the Classics: Book 4 Intermediate with Audio Access
Journey Through the Classics is a four-volume piano repertoire series designed to lead students seamlessly from the earliest classics to the intermediate masterworks. The graded pieces are presented in a progressive order and feature a variety of classical favorites essential to any piano student's educational foundation. Benefits: Progressive order provides a variety of musical styles in a logical sequence; Includes a reference chart with the stylistic period and challenge elements listed for each piece; Authentic repertoire ideal for auditions and recitals; and more. Quality and value make this series a perfect classical companion for any method!

Contents: CPE BACH: Solfeggietto • JS BACH: Invention No. 1 • Little Prelude • Little Prelude in C minor • BENDA: Sonatina in A minor • BEETHOVEN: Fur Elise • Sonatina in G • BURGMULLER: The Storm • CHOPIN: Waltz in A minor • CLEMENTI: Sonatina, Op. 36, No. 2 • ELLMENREICH: Spinning Song • GRAUPNER: Intrada • GURLITT: By the Spring • Mazurka • HELLER: The Avalanche • KUHLAU: Sonatina Op. 55, No. 1 • MACDOWELL: To a Wild Rose • MOZART: Minuet • PACHELBEL: Gavotte and Variation • Gavotte in A minor • SCHUBERT: German Dance • SCHUMANN: From Foreign Lands and People • The Merry Farmer • TCHAIKOVSKY: Old French Song

Includes access to audio tracks online for download or streaming!