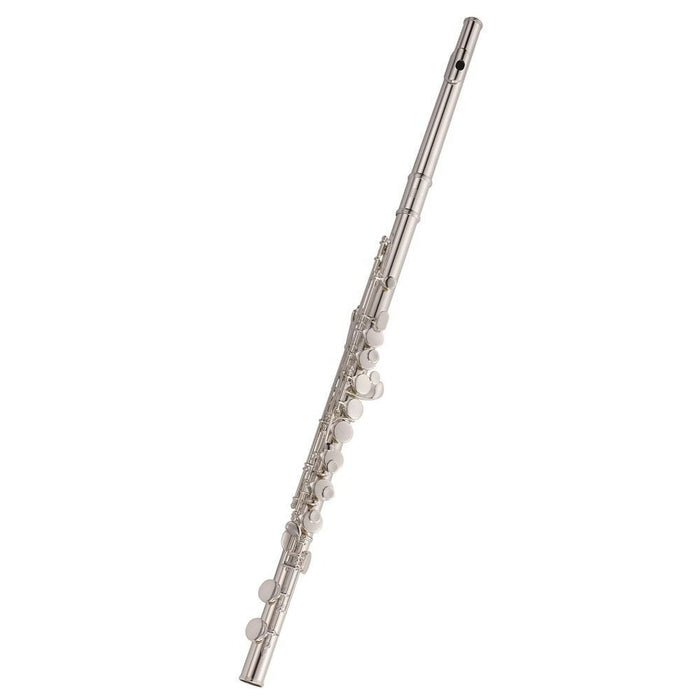 Jupiter JF521SE Straight & Curved Head Alto Flute
Back To School Sale
The (521SE) JAF1000X Alto Flute features: Silver plated straight and curved headjoint and body; w/Split E Mechanism; Forged nickel silver dapped keys; Key of G; Precision cut headjoint with hand finished embouchure; Stainless steel springs; Double skin pads. Includes woodframe case with durable nylon cover. 
Every Jupiter instrument is backed by a 5 year manufacturer's warranty. Unlike many competing brands; a full range of spare parts are available when maintenance and repairs are needed.  
Features
Silver-Plated Nickel Silver Body and Headjoint combine to provide not only durability but enhanced tonal quality and lasting beauty   
Straight & Curved Headjoints add longevity by allowing the player to grow with the instrument and helping to maintain correct posture
Stainless Steel Springs Provide Long Lasting Durability and Maintain Responsive Key Action
Specs
Key of G
Silver-Plated Nickel Silver Body
Silver-Plated Straight and Curved Headjoints
Offset G
Plateau Keys
Stainless Steel Springs
Double Skin Pads
Leatherette Covered Wooden Case with Cover
Orders typically take 1-3 business days to process and ship. When items are out of stock, they will be dispatched no more than 10 days after ordering. For urgent orders please contact us first to confirm stock availability.