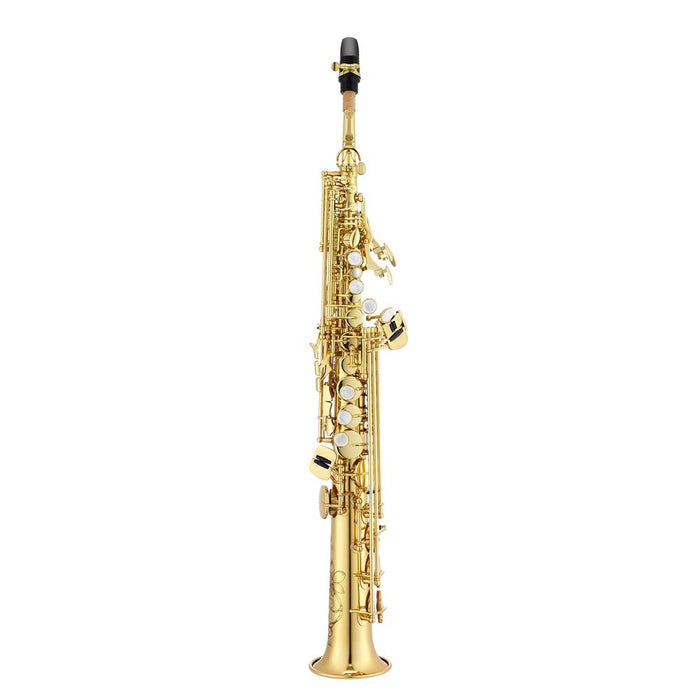 Jupiter JSS1100Q Soprano Saxophone in B♭
Back To School Sale
A great first soprano or for the doubler, the JSS1100 has all of the features you will need. Key of Bb. It features a gold lacquered one-piece body and keys, high F# key, and tilting G#-Bb spatula keys. Includes neck strap, mouthpiece, cork grease, and silk weave cleaning cloth.  
Features
Gold-Lacquered Brass Body ensures the most accurate scale and playability and finished with a golden lacquer to ensure lasting durability and beauty

Metal Tone Boosters add brightness to the instrument sound and assist in a tighter key seal
Specs
Key of Bb
Gold-Lacquered Brass Body
Gold Lacquered Brass, Straight Neck
High G
Tilting G#-Bb Table Keys
Plastic Tone Boosters
Blued Steel Springs
Adjustable Plastic Thumb Rest
With Wood-Frame Case (JSS1000) or With Backpack Softcase (JSS1000Q)
Orders typically take 1-3 business days to process and ship. When items are out of stock, they will be dispatched no more than 10 days after ordering. For urgent orders please contact us first to confirm stock availability.