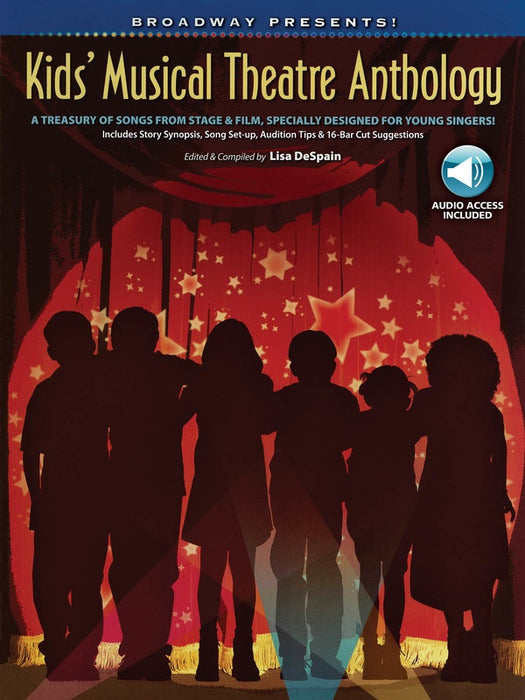 Kids' Musical Theatre Anthology
A delightful collection of musical theatre songs that kids love to perform, from a variety of shows. Using original scores, the songs have been selected and adapted with the ranges and skills of young singers in mind.
Included in this collection are short summaries for each of the musicals, a dramatic and character set-up for each song, audition tips, and 16-bar cut suggestions.
Contents
ALL I DO IS DREAM OF YOU (from "Singin' In The Rain")
ALONE IN THE UNIVERSE (from "Seussical the Musical")
BE KIND TO YOUR PARENTS (from "Fanny")
CONSIDER YOURSELF (from "Oliver!")
DIFFERENT (from "Honk")
DOLL ON A MUSIC BOX / TRULY SCRUMPTIOUS MEDLEY
GOOD MORNING (FROM "SINGIN' IN THE RAIN")
GREEN EGGS AND HAM (from "Seussical the Musical")
HEART (from "Damn Yankees")
I JUST CAN'T WAIT TO BE KING (from Walt Disney's "The Lion King")
I WANT IT NOW (from ôCharlie And The Chocolate Factoryö)
I'VE GOTTA CROW (from "Peter Pan")
IN THE BIG BLUE WORLD (from "Finding Nemo: The Musical Review")
IT'S POSSIBLE (IN MCELLIGOT'S POOL) (from "Seussical the Musical")
JOHNNY ONE NOTE (from "Babes in Arms")
PART OF YOUR WORLD (from Walt Disney's "The Little Mermaid")
PURE IMAGINATION (from ôCharlie And The Chocolate Factoryö)
SHY (from "Once Upon A Mattress")
SUPERCALIFRAGILISTICEXPIALIDOCIOUS (from "Mary Poppins")
THE GIRL I MEAN TO BE (from "The Secret Garden")
WHEN I GET MY NAME IN LIGHTS (from "The Boy from Oz")
WOULDN'T IT BE LOVERLY (from "My Fair Lady")