Laney AH40 Audiohub Multi-Instrument Amplifier
Laney AH40 - audiohub
THREE CHANNEL MULTI-PURPOSE AMPLIFIER



Laney have been building quality amplification for more than 45 years.

The AH40 Audiohub is a compact multipurpose amplifier and can be used to amplify three sources as well as an additional CD/MP3 player at the same time. The impedence matched inputs will accept signals from Microphones, Guitars, Keyboards, Digital Drum Kits, Stomp Boxes (eg Bigfoot) and even DJ Decks.
The ultra portable Laney AH40 punches out a mighty 40 watt rms output through a custom designed 8″ speaker. Featuring three independent channels, an AUX (CD/MP3 player) input, Reverb and a DI out, the Laney AH40 Audiohub is the ideal entry level multipurpose amplifier.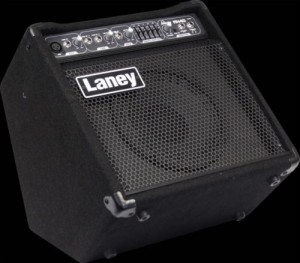 The Laney AH40 has a dual position kickback style cabinet with a top mounted handle and kick proof metal grille. The Carpet covering adds a professional touch and is extremely hard wearing and durable.

Laney AH40 audiohub Specifications:
o AUX Input: MP3/CD player input 3.5mm stereo jack Line in
o Channels 1: Balanced XLR/Unbalanced Line in
o Channel 2: Stereo Unbalanced Line in
o Channel 3: Hi-Z Instrument Line in
o Speaker: 8″Custom Designed Speaker
o Equalisation: Master 5 Band Graphic EQ (±12dB)
o Headphone Output: Yes
o Inputs: 6.3mm (1/4″) Jack Inputs on all channels (CH1 also has an XLR input)
o Kick Proof Metal Grill: Yes
o Line Out: Yes
o Output Power: 40 Watts RMS
o Shipping Dimensions: H455mm x W425mm x D385mm
o Unit Dimensions: H389mm x W363mm x D328mm
o Shipping Dimensions: H455mm x W425mm x D385mm
o Unit Dimensions: H389mm x W363mm x D328mm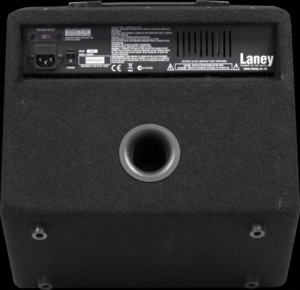 THREE YEAR WARRANTY

A brief History of Laney Amplification
Long known as that "other British Amp", the Laney Amplification story began in the autumn of 1967 during the golden era of British Rock and Roll.  Lyndon Laney who was playing bass in a number of Midlands based bands at the time combined his interest in music and electronics and began making boutique amplifiers for fellow band members and friends such as Tony Iommi and Robert Plant.
Fast forward more than forty years and Laney Amplifiers have grown into a multi-national amplifier manufacturer with a range of products covering all musical styles and a long list of user's and endorsees containing some of the most influential and respected players on the planet.
Led Zeppelin, Black Sabbath, Paul Gilbert, Steve Vai, Frank Gambale, Jon 5, Ace Frehley, Andy Timmons, Mattias "IA" Eklundh, Christophe Godin, Kiko Loureiro, Mikael Akerfeldt and many more have used Laney Amplification as part of their sound.
Steeped in Rock Heritage, Laney Amplification takes extreme pride in building exceptional amplifiers for the continually evolving demands of today's musicians.


Orders typically take 1-3 business days to process and ship. When items are out of stock, they will be dispatched no more than 10 days after ordering. For urgent orders please contact us first to confirm stock availability.