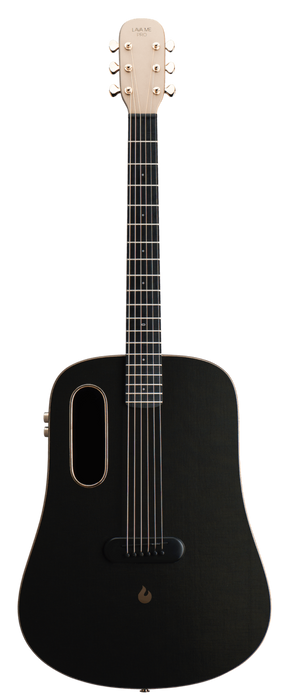 LAVA ME PRO Guitar Black Gold Pickup w/ Case


L2 Pro preamp system
The most powerful preamp system we've ever built.
A meaningful collaboration
To develop the powerful L2 Pro preamp system, we developed a deep understanding of the values of innovation held by renowned amplification specialist, L.R. Baggs. Utilising some of their iconic signature features, combined with our shared desire to deliver the best tone possible, the L2 Pro preamp system was born.
Built-in preamp
The built in L2 Pro preamp system, brings signature L.R. Baggs features to the LAVA ME PRO that have been used in countless gigs and concerts to date. With additional effects then built in and a user friendly, approachable interface, you now have the option to go on tour and leave your pedal board behind.
TapTempo Delay
Adjusting the delay tempo has never been easier, with one of the unique features of the LAVA ME PRO. You can now precisely control the speed of the delay, at the touch of a button.
Turbo Mode
Are you ready for your solo? The built in Turbo function of the LAVA ME PRO, instantly boosts your volume by up to 50% giving you an extra lift when you need it most.
Up to 50% Volume Boost
MixControl

Utilising L.R. Baggs signature MixControl feature, you can easily adjust your sound between the built in body mic and piezo to achieve a more natural and customizable tone.
Effects without even plugging in

FreeBoost™ Feature

No amp. No cables. You can now play with effects including Delay, Reverb and Chorus, at the touch of a button.
Threshold up to 95 °C 
The AirSoniccarbon fiber composite maximum temperature threshold
Threshold up to -25 °C
The AirSoniccarbon fiber composite minimum temperature threshold
The AirSonic carbon fiber composite body allows the LAVA ME PRO to remain unaffected by changing weather conditions such as temperature and humidity. Whether you're in a desert or polar region, the PRO will always work for you.-25°C ~ 95°C Optimum performance temperature range
Ideal Bag Pro

Super strong and lightweight for travelling and touring. The shape of the Ideal Bag PRO was designed to fit the body of the guitar perfectly, while the built in "AirBuff" material protects it from environmental stresses.
A brand new structural material, "AirBuff" is soft and elastic under normal conditions, then if struck or banged on an outside surface, the inner micron molecules instantly lock together to absorb the impact and protect the LAVA ME PRO.
The Ideal Bag PRO comes with a concealed pocket on the rear side, giving you the space to bring any tools, accessories or cables needed for your performance.
Tech Specs  
Model: Black Gold / Space Grey

Size: 41-Inch unibody guitar

Electronic Systems: L2 PRO

Soundboard material: 

AirCarbon

Body material: 

AirSonic™ Carbon fiber Composite

Strings: 

Elixir Nanoweb 012

Hardware: S

crewless machine head designed by LAVA MUSIC
Ideal Strap Pro
This delicate strap is designed to be reliable and easy to use. The metal strap locker is surrounded by high-performance polyurethane synthetic leather for protection, which reduces the risk of scratching the guitar's surface when worn, or taking on and off. *sold separately
What's in the Box ?
Including following items
Lava Pro Guitar
Ideal Bag PRO 

LAVA Charging Cable
Microfibre cloth
LAVA Guitar Pick
Orders typically take 1-3 business days to process and ship. When items are out of stock, they will be dispatched no more than 10 days after ordering. For urgent orders please contact us first to confirm stock availability.