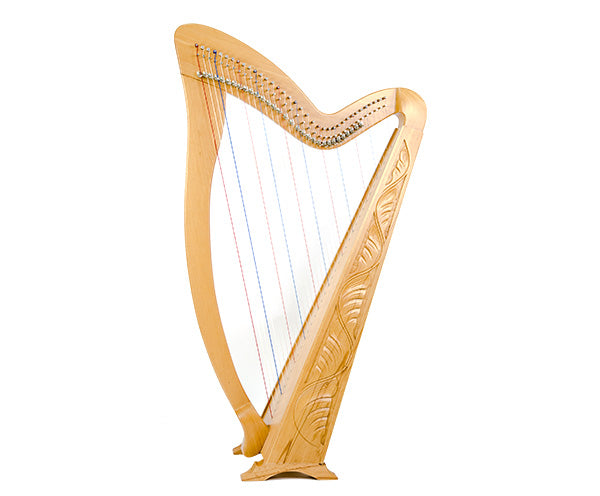 Meghan Harp 36 String Carved Beechwood Frame with Bag
Please contact us for stock availability
Designed for the more serious player or a beginner who wants the maximum range. 5 octaves are spaced along the 36 strings allowing for a huge range of styles and repertoire. On its feet, the Meghan Harp stands about 51" tall. 

The large soundbox and soundboard delivers powerful projection and a handsome woody tone. Wound nylon bass strings are deep and rich, plain nylon treble strings are detailed and light.
Sharpening levers fitted to top 31 strings allows for tunings to be adjusted on-the-fly. At approximately 51 inches tall with attractively carved sides, it makes for an eye-grabbing addition to any music studio or stage.
Range: C7 to C2

31 x Standard Sharpening Levers
Soundboard: Beech Lamination
Body: Solid Beechwood
Natural Matt Finish
Includes: Padded Carrying Bag, Tuning & Bridge Pin
Wrench & extra set of strings.
Weight: 11kg
Height: 130cm
Tuning method- Celtic harps are tuned Diatonically, i.e. to a Major Scale.
Starting at the bass end, the strings are tuned in the following fashion:
C-D-E-F-G-A-B-C-D-E etc
After tuning all the C notes should be on the RED strings and all of the F notes on the BLUE strings.
Orders typically take 1-3 business days to process and ship. When items are out of stock, they will be dispatched no more than 10 days after ordering. For urgent orders please contact us first to confirm stock availability.