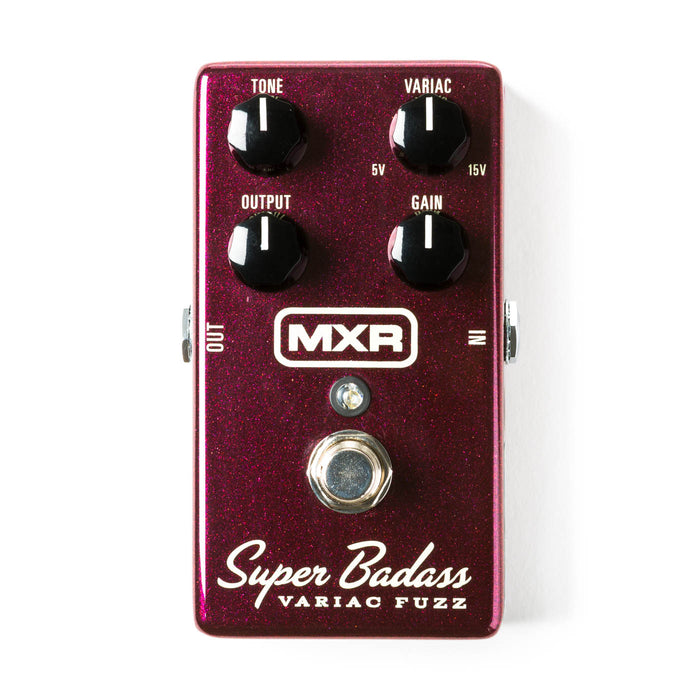 MXR Super Badass Variac Fuzz
Item backordered, please contact us for an ETA
The Super Badass Variac Fuzz is a dream come true for guitar players chasing vintage fuzz tone. This tasty fuzz is aggressive and biting, and with the twist of a knob, you can drag it into that dying battery territory much prized by tonechasers-no need to manage a collection of half-dead batteries.

To create the Super Badass Variac Fuzz, the MXR design team dusted off a rare vintage silicon circuit, tuned it up, and added a Variac control so you can set the pedal's voltage anywhere from 5 to 15V. For that wonderful saggy fuzz effect you get as a 9V battery loses its power, just lower the voltage by turning the Variac knob counterclockwise. Increasing the voltage raises the effect's headroom, opening up the fuzz for a more transparent sound at 15V.

The Super Badass Variac Fuzz's simple interface is rounded out with Tone, Output, and Gain controls, and it all comes in a road-ready housing with true bypass switching.
Orders typically take 1-3 business days to process and ship. When items are out of stock, they will be dispatched no more than 10 days after ordering. For urgent orders please contact us first to confirm stock availability.