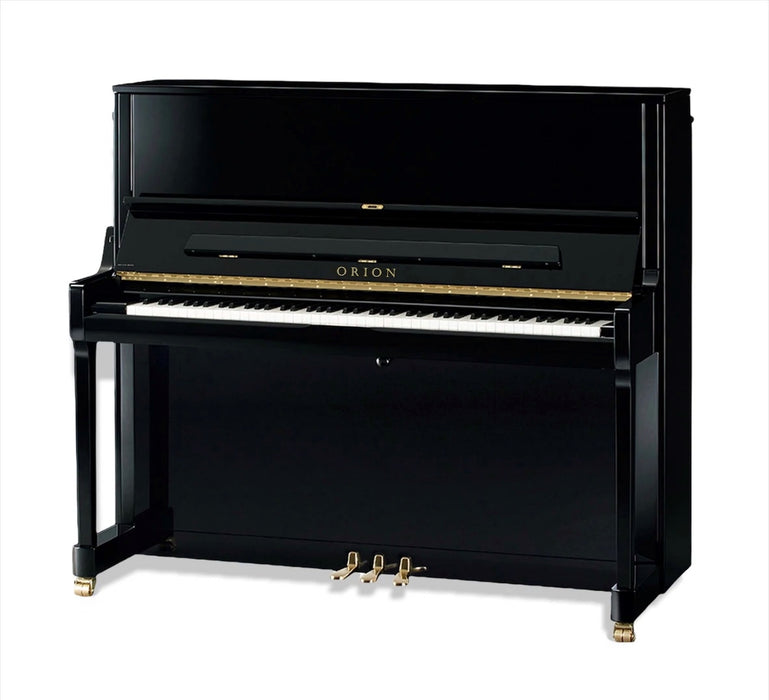 ORION OUP125 Upright Piano Ebony Polish
Upright Acoustic Piano 
OUP125
The ORION's entry level upright acoustic piano is built with assurance to offer you a lifetime of satisfaction. With strict appraisal by professional pianists and tight quality control through the entire supply chain, we offer you the best playing experience for any pianists looking for their first classic upright piano. 
​​Designed and engineered by a team of professional piano craftsmen from Hamamatsu, Japan, we reached out to collaborate our vision and their experience. With a professional touch embedded in the Upright Acoustic, we use some of the highest quality German strings, timber, and felt in our pianos. Guided by a team of performing pianists, the acoustics are tuned to carry an astounding tonal clarity which translates the pianist's articulations through its responsive touch, similar to the actions of any seasoned upright piano.
The OUP125 offers a particularly warm, dynamic range alike the tone you would hear from many classical composers. Set to a firmer piano action, it enables the pianist to play freely without having to worry about the 'responsiveness' of the touch or 'running out of sound', giving more control and playability to the pianist. 
All ORION pianos are strictly monitored and aged in a temperature adjusted room to condition the pianos to the Australian climate in order to ensure the optimum performance capabilities*.
​​
​
The starting on the OUP125 is the perfect beginner's acoustic piano​ that will pave the musical way for many starters. This model is heavily supported by research and piano teachers' advice to building an introductory acoustic piano for new musicians.
BEST MATERIALS IN AN ENTRY-LEVEL
Designing our own pianos have allowed us to put on some of the most appreciated piano parts into our entry-level piano, while keeping prices low. These 125 models are fitted with selected high quality German timber, strings, and hammer felt.
BRITISH EXAMINATION & PERFORMANCE STANDARDS
The ORION Pianos are used for the Associated Board of the Royal Schools of Music (ABRSM) examinations, for pianists sitting for the Grade 1 examinations through to Grade 8 as well as piano accompanists for other instrumental examinations.
​
ORION Pianos are also available in practice studios and performing stage to allow pianists and teachers to hire in preparation for competitions, examinations and performances all year around.
DELUXE HEIGHT ADJUSTABLE STOOL
Sitting posture and comfort is crucial for any pianists spending long hours practicing. This complimentary deluxe stool comes with a double padded, vinyl top seat and heavy-duty brass hardware underneath. The height adjusting feature becomes handy for pianists at different ages and height.
Product Specifications
Model No.: OUP125
Dimensions: Length 150cm Width 63cm Height 125cm
Weight: 265kg
Soundboard: German Solid Sitka Spruce
Strings: German Röslau Strings
Hammers: German FFW Felt, Mahogany Hammer Mouldings
Keys: Spruce and Indonesian Ebony
Casters: Double Front Casters Solid Brass
Pedals: 3 Pedals Solid Brass
Colours Available: Ebony Polish, Walnut Polish, White Polish
10 Year Full Manufacturer's Warranty
Complementary Items
ORION Deluxe Stool Height Adjustable 
2 Complimentary Piano Tunings
Free Delivery to your doorstep (Perth metro area)
SCHEDULE AN APPOINTMENT WITH US >