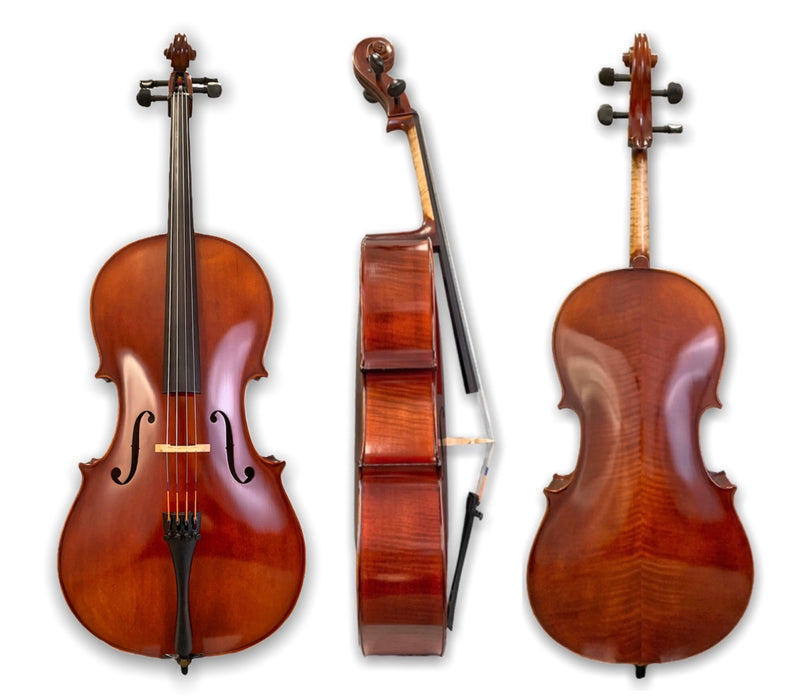 Orion OVC100 Cello Outfit 7/8 Size
The ORION OVC100 offers solid, rich quality tone and projection of sound. An intermediate level instrument to suit the progressing cellist.
This OVC100 is built in to a 7/8 scale. The 7/8 scale may be a comfortable or an ideal size for some cellist who want a smaller body and shorter fingerboard for closer finger position. Great fit for cellists between height 150cm-175cm.
The OVC100 has improved tonewoods, select spruce for the top, and maple back and sides. The tonewoods have been critically selected and aged for more than 8 years for the construction of this beauty. Made in the ORION workshop guided by an award winning luthier, this cello has an impressive tonal quality for it's price. 
Outfit includes a brazilwood bow with ebony mounted frog, and a cello case with wheels.
Each OVC100 cello has been set up and inspected by our experienced luthiers in Perth before the instrument leaves Crescendo Music.
Crescendo's professional String Instrument Setup includes:
shaping the fingerboard and nut to professional curvature
carving and fitting the bridge to the instrument
upgrading strings with quality studio steel strings 
tuning the instrument
fitting and adjusting the soundpost
Future trade-in

All ORION violins, violas, and cellos can be traded in for a different size/model. Trade-in credit value up to 40%, subject to condition.
Specifications
Hand-crafted from select aged tonewood

Solid spruce top
Solid maple neck
Solid back and sides

Ebony pegs
Ebony fingerboard

Genuine Hand-inlaid Purfling

Aged maple bridge
Outfit includes brazilwood bow and case w/ wheels
Size : Available in 3/4, 7/8, and 4/4 size