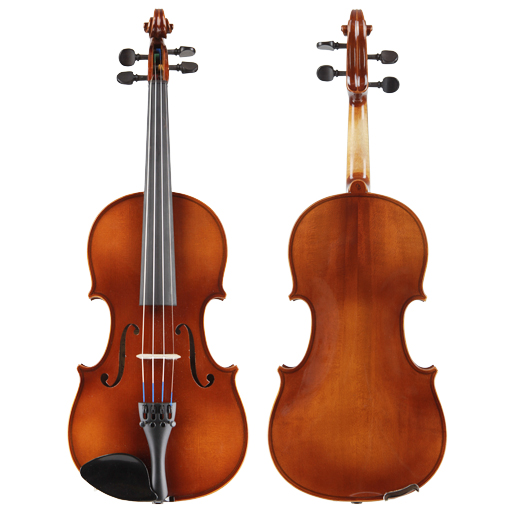 Otto Jos Klier Concertino Violin C1
The Klier brand has been making instruments for 128 years, beginning with Schönbach violin maker Johann Klier in 1887 who had set up his workshop in Egerland. He created violins for clients in Vienna and as far as Russia. Following Johann Kliers death in 1918 his eldest son Otto Josef Klier took over from the workshop and became renowned for the varnish of his violins, the same varnishes are still used today! Before the great depression up to 50,000 violins were made each year! Once the great depression hit they broadened their line to include guitars. In 1948 the Klier family fled Egerland abandoning the workshop they had spent years developing and created their new home in Bubenreuth, Germany. Otto Josef died in 1961 and his widow Rosa became the head of the company. 
The Otto Jos Klier instruments are skilfully hand-crafted in Germany using European maple and spruce tone woods and professionally setup by the Luthiers in our Sydney based workshop to ensure good playability and quality of sound. 
The Klier C1 violin is the first model in the Klier range and has been in Australia for more than 30 years. The C1 is well-built, reliable and produces a warm, round, deep tone that projects well. The C1 has a mellow 'viola-like' quality in its sound which can be quite pleasing under the ear, especially in the upper registers. This makes it a favourable choice for adult beginners or early intermediate players who want a more forgiving instrument.  In terms of AMEB or Trinity levels we believe it is most suitable for advancing players at a 4th to 5th grade standard.

The Klier C1 has a dark gold-brown varnish with inlaid purfling, ebony pegs, nut and fingerboard and a Wittner tailpiece with in-built fine tune adjusters. It is usually fitted with Pirastro Violino strings which add more warmth and complexity to the sound.  If Violino strings aren't in-stock, then a similar alternative such as Corelli Cantina strings will be used.


Instrument Details: 
 
+ Spruce top
+ Maple back, sides and scroll
+ Ebony nut, fingerboard and pegs
+ Inlaid purfling
+ Wittner tailpiece with in-built fine tune adjusters
+ Pirastro Violino (or suitable alternative)
+ Available sizes: 3/4, 4/4