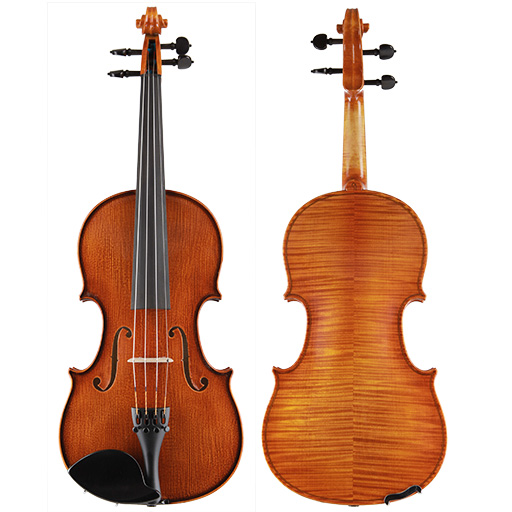 Otto Jos Klier Maestro Violin M3
 FREE SHIPPING WORLDWIDE -  free shipping will automatically apply at checkout
This violin was made in the Klier workshop located in Bubenreuth, Germany. The Klier family has been making violins since 1887 with Johann Klier who set up his own workshop in Schönbach, Egerland. Johann passed away in 1918 & the workshop was passed to his eldest son, Otto Josef Klier. The Klier workshop have a wide range of products from good-quality student-intermediate options to more advanced instruments & bows. All instruments & bows are unique & of a very high standard, crafted by skilled makers with naturally aged timber. This violin comes with a certificate of authenticity & is top of the Klier range of instruments at Crescendo Music.

This violin has a two piece well flamed back made from carefully selected Bosnian maple. The top is made from aged Austrian mountain spruce. The M3 is fitted with ebony pegs, fingerboard, chinrest and a wittner tailpiece with in-built fine tuners. It has a good cover of yellow brown varnish.

This instrument boasts a bright & bold sound with outstanding resonance & projection. It has a well-balanced & articulate tone with a good level of clarity & focus across the registers. The M3 violin boasts a fast response time & easy playability. This instrument has been fitted with Larsen Tzigane strings to add a level of warmth & complexity to the overall brightness of this violins sound. The M3 is suitable for advanced musicians (up to approximately AMEB Grade 8).

WHAT MAKES THE KLIER M3 DIFFERENT TO THE KLIER M2?

*    A superior quality of timber that has been naturally aged for a longer period of time & more carefully chosen (seen in the higher flame on the back, sides, neck & scroll).
*    A brighter sound with outstanding projection due to the higher grade of timber, varnishing & workmanship.

This price is for the instrument only (no case or bow) and includes a professional set-up.
Colour may vary slightly from this image.