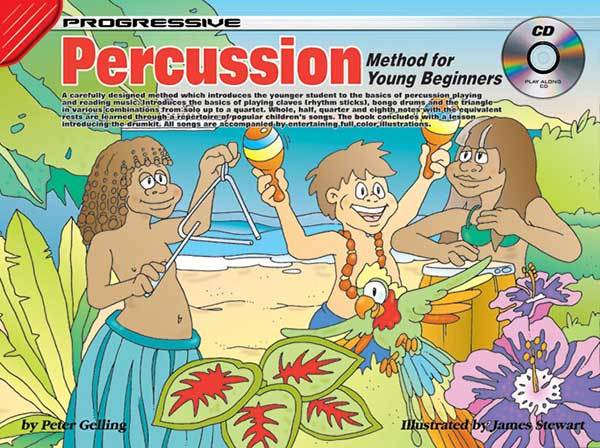 Progressive Percussion Method for Young Beginners BK/CD
Progressive Percussion Method for Young Beginners contains all you need to know to start teaching kids to play percussion - in one easy-to-follow, lesson-by-lesson children's percussion tutorial. Suitable for children aged 4 to 8 years and all types of percussion instruments including rhythm sticks, bongo drums, the triangle and the drum kit. No prior knowledge of how to read music or playing percussion is required to teach a child to learn to play percussion from this book.
Teach your child:
How to play percussion notes for kids and percussion rhythms for kids
All the fundamental techniques of percussion playing including how to hold the triangle and how to strike the bongo drums
Basic percussion theory for kids on how to read music including notes, rests and time signatures
Percussion tips for kids that every child should know when learning percussion
Shortcuts for how to learn percussion fast by getting the most from percussion practice sessions
Contains everything you need to know about how to teach a child to play percussion today.
Features include:
Progressive step-by-step easy percussion lessons written by a professional children's percussion teacher
Beautifully illustrated in full color throughout
Easy-to-read percussion music for kids with duets and trio plus melody and lyrics
Keyboard note chart for learning to play melodies on the keyboard and to understand harmony and melody
40 great sounding percussion exercises including popular easy percussion songs for kids
Orders typically take 1-3 business days to process and ship. When items are out of stock, they will be dispatched no more than 10 days after ordering. For urgent orders please contact us first to confirm stock availability.