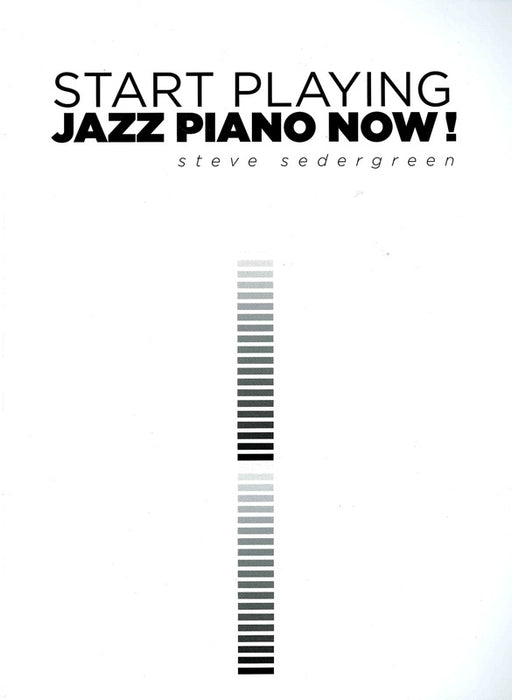 Steve Sedergreen - Start Playing Jazz Piano Now!
Description
Steve Sedergreen has taught jazz piano for over 20 years, during which time he has devoted his energy to considering the best approaches to teaching jazz. All of Steve's observations and practice have now culminated in the formulation of an innovative, individual, and strong approach to teaching jazz in his book Start Playing Jazz Piano Now!
If you want to learn how to play jazz piano, then Start Playing Jazz Piano Now! is the book for you. It doesn't matter how old you are, or what previous experience you have, as long as you have the rudimentary knowledge of where to find the notes on the piano and can play them, you will enjoy learning from this book. Start Playing Jazz Piano Now! can be used by students who want to learn in their own time, or teachers, as an aid in the teaching of individuals and groups.
"This book is a terrific contribution to the literature on how to play jazz music. It is full of excelled information, beautifully laid out and easy to read. Its focus is on 'starting out' but unlike many texts it begins by affirming the idea that above all one must listen to the music. The book contains printed scores for pieces discussed and recorded performances of them. It is all there for the taking. For those with the passion to play jazz, this book will be a great resource for material, and inspiration." - Tony Gould
"The depth of this text provides the reader, pianist and enthusiast with a respectful nod to jazz tradition, in addition to hearing the unique voice and thoughts of the author, who has invested his life into creating and perfecting his artistry." - Sandra Birze
"The book is really impressive. It looks great, is well laid out and takes a different approach to any I've seen." - Mike Nock
Orders typically take 1-3 business days to process and ship. When items are out of stock, they will be dispatched no more than 10 days after ordering. For urgent orders please contact us first to confirm stock availability.