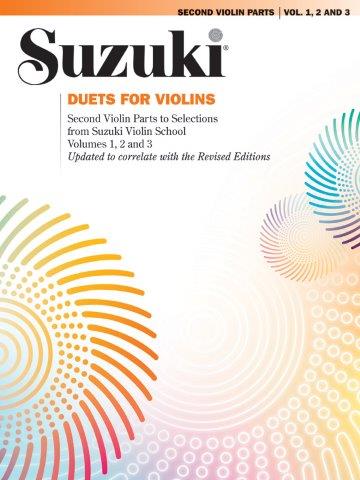 Suzuki Duets for 2 Violin
This book contains the second violin part and some third violin parts written by Dr. Suzuki to selected pieces from Suzuki Violin School, Volumes 1, 2, and 3. When a student starts playing advanced pieces he may learn the second part.
No. 2 (Beethoven). This title is available in SmartMusic.

Song List
| | |
| --- | --- |
| Title | Composer |
| Lightly Row | Folk Song |
| Song of the Wind | Folk Song |
| Go Tell Aunt Rhody | Folk Song |
| O Come, Little Children | Folk Song |
| May Song | Folk Song |
| Long, Long Ago | Thomas Haynes Bayly |
| Allegro | Shinichi Suzuki |
| Perpetual Motion | Shinichi Suzuki |
| Allegretto | Shinichi Suzuki |
| Andantino | Shinichi Suzuki |
| Etude | Shinichi Suzuki |
| Minuet No. 1 | Johann Sebastian Bach |
| Minuet No. 2 | Johann Sebastian Bach |
| Chorus from "Judas Maccabaeus" | George Frideric Handel |
| Musette | Johann Sebastian Bach |
| Bourrée | George Frideric Handel |
| Gavotte | P. Martini |
| Minuet | Johann Sebastian Bach |
| Minuet in G | Ludwig van Beethoven |