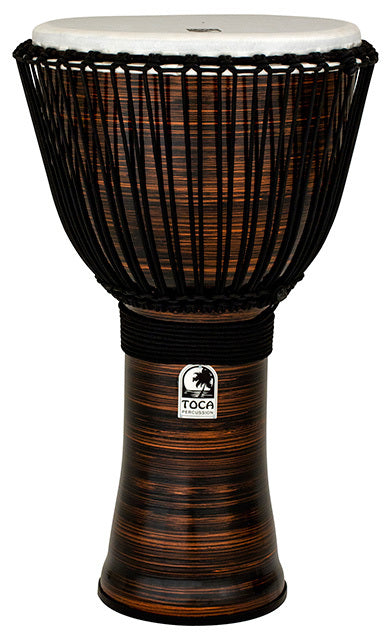 Toca Freestyle 2 Series Djembe 14 Inch Spun Copper with Bag
Freestyle II Rope Djembes now take the next step in performance with the installation of all-weather synthetic heads. The new heads eliminate the stretching, drying, and loss of pitch that can occur with natural skin heads due to changes in weather conditions. Thus they offer greater consistency in sound. Synthetic heads can also be tensioned over a wider range, making them able to produce higher, crisper slaps and deeper bass tones. Freestyle II Rope Djembes have also been improved with an increased number of rope runners that allow for improved tuning.
The drums' lightweight and durable synthetic shells offer outstanding resonance and projection.
Each features a Spun Copper finish and a protective nonslip rubber bottom.
Traditional sounds, high-tech construction, state-of-the-art performance.
Orders typically take 1-3 business days to process and ship. When items are out of stock, they will be dispatched no more than 10 days after ordering. For urgent orders please contact us first to confirm stock availability.