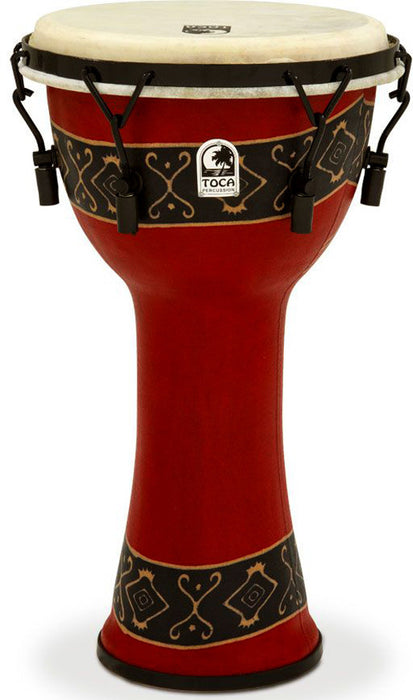 Toca Freestyle 2 Series Mech Tuned Djembe in Bali Red (2 sizes)
Lightweight and durable seamless synthetic shell with a wrapped finish and a synthetic head, this hand drum offers all the landmark tonal qualities of traditional wooden djembes.
From resonant bass tones to penetrating slaps, this drum speaks in many tones and functions well in many settings. The djembe's low mass tuning system allows fast, accurate tuning that stays in place.
Protective rubber bottom and tips on tuning lugs protect your floor's finish.
Take your Toca Freestyle Djembe anywhere from beaches to deserts to mountain tops.
Don't let the weight of traditional djembes drag you down.
Perfect for drum circles and kids of all ages.
Bali Red design on wrap.
Orders typically take 1-3 business days to process and ship. When items are out of stock, they will be dispatched no more than 10 days after ordering. For urgent orders please contact us first to confirm stock availability.