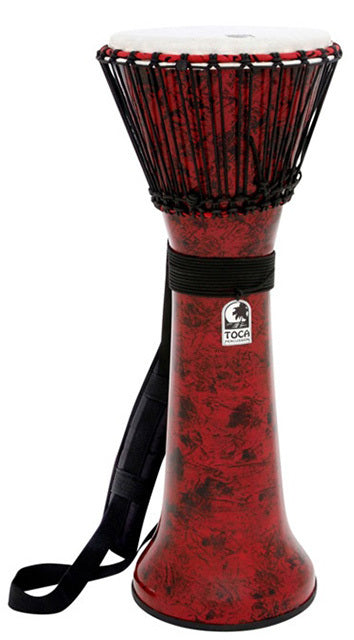 Toca Freestyle Series Klong Yao Drum in Red
For Health, For Spirit, For Life
Toca's Freestyle Klong Yao Drum is modeled after a traditional Thai drum that has been used for centuries in religious ceremonies, festivals, and drum circles. But while the Freestyle Klong Yao retains the body shape and rope-tension system of the original instrument, it features a modern synthetic shell with a protective rubber edge, low-stretch Alpine rope with braided cores, and a synthetic head that's not subject to stretching or losing its pitch.
Rather than being held between the knees or under the arm of a seated player, the Klong Yao is intended to be played by a standing drummer while slung via a shoulder strap. It can also be played across the lap for comfortable use in drum circles.
The 31-3/4" long, goblet-shaped drum features an 11-1/2" diameter head stretched over a moderate-sized bowl that tapers to a long, narrow lower shell section. This design allows the Klong Yao to produce bass tones that are surprisingly deep and powerful considering the drum's size and weight. This makes it an excellent choice for the "bass drum voice" in a drum circle or percussion ensemble—especially since it can also produce well-balanced higher tones when played at the edge of the head.
Speaking of the head, the Freestyle Klong Yao's synthetic head is stretched over a smooth, curved bearing edge that allows for comfortable finger-style playing at the edge of the drum. The rope-tensioning collar is recessed well below so as not to pose an obstacle. Meanwhile, the center of the head responds to "palm slaps" with deep, throaty bass tones that resonate powerfully out of the opening at the bottom of the shell.
The Toca Freestyle Klong Yao Drum includes a fully adjustable padded shoulder strap to maximize player comfort. A hand-applied deep red marble finish provides a rich, attractive appearance. Add in the drum's remarkable sonic performance, and you have an instrument of unlimited potential just waiting to be explored.
Orders typically take 1-3 business days to process and ship. Please note that not all items are held in stock at Crescendo Music's retail store. When items are out of stock, they will be dispatched no more than 10 days after ordering. For urgent orders please contact us first to confirm stock availability.