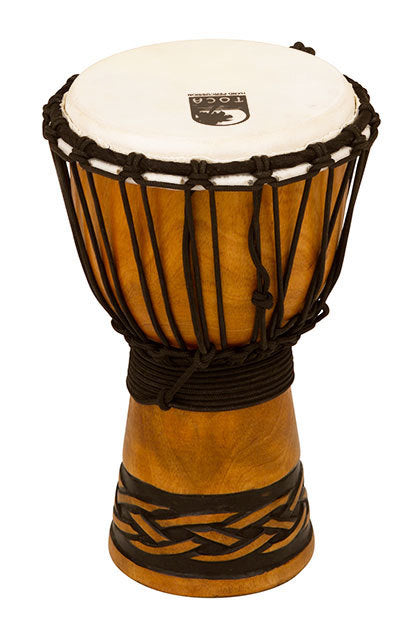 Toca Origins Series Wooden Djembe 07 Inch Celtic Knot
Toca's Origins Series Wood Djembes are as traditional as a djembe can get. Beautifully hand carved from a single piece of plantation grown mahogany, they are drums to be cherished and enjoyed for years.
The shell's interior is grooved to eliminate unwanted overtones, so the drum produces classic high pitch slaps, robust midtones and rich deep bass tones. Each drum comes fitted with an all-weather, synthetic head which eliminates stretching, drying or losing pitch.
Our environmentality is to always think green. And you don't get to be one of the world's best djembes without keeping the world in mind. That''s why our djembes use only certified, plantation grown wood that's treated and dried in buildings powered by solar technology.
Orders typically take 1-3 business days to process and ship. When items are out of stock, they will be dispatched no more than 10 days after ordering. For urgent orders please contact us first to confirm stock availability.