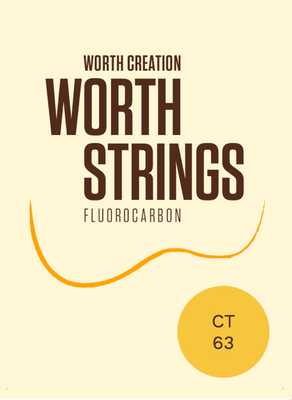 Worth Clear Ukulele String Set Tenor CT
The worth strings are founded and produced by Masaya Takahashi, started in 2002. These strings are well loved and used by many popular brands and artists such as Ohana Ukulele, Flight ukuleles, and ORION ukuleles. All Worth strings have a very clear tone and comfortable playability. Offered in two fluorocarbon sets. Worth Brown and Worth Clear.
Difference between Brown & Clear?
The clear fluorocarbon type has a sharp and projective sound than the Brown.
On the other hand Brown has a mild and mellow sound compared with the Clear strings.

One Pack, Two Restrings!

The Worth strings are sold in double the length of a standard set of strings. Cut into two equal halves and you will be able to restring your ukulele twice.