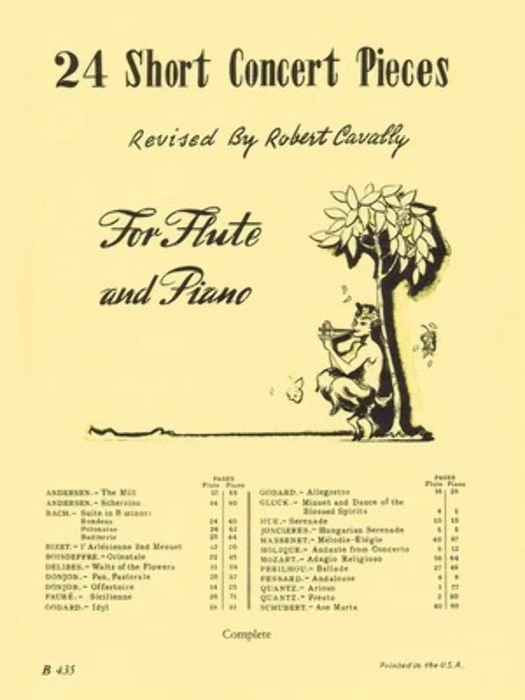 24 Short Concert Pieces for Flute and Piano Ed Cavally Southern Music
24 short concert pieces for Flute and Piano . Contains flute repertoire for the intermediate flute player. Students studying the equivalent of Grades 4 and 5 will find suitable pieces in this book. Southern Music.
Arranged by Robert Cavally with flute and piano parts (complete set). Intermediate level. 
Content
Mill, The (Andersen)

Scherzino (Andersen)

Suite in B Minor (Bach, J.S.)

L'Arlesienne, 2nd Minuet (Bizet)

Orientale (Boisdeffre)

Waltz of the Flowers (Delibes)

Pan, Pastorale (Donjon)

Offertoire (Donjon)

Sicilienne (Faure)

Idyl (Godard)

Allegretto (Godard)

Minuet and Dance of the Blessed Spirits (Gluck)

Serenade (Hue)

Hungarian Serenade (Joncieres)

Melodie-Elegie (Massenet)

Andante from Concerto (Molique)

Adagio Religioso (Mozart, W.A.)

Ballade (Perilhou)

Andalouse (Pessard)

Arioso (Quantz)

Presto (Quantz)

Ave Maria (Schubert)